UAP Limited's Product of the Month: The Duo Handle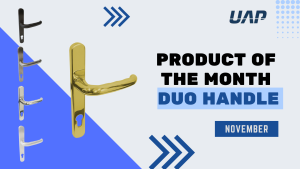 This month, we are delighted to shine a spotlight on UAP Limited's remarkable product of the month, the UAP Duo Door Handle DDA EA. As a leading name in the door hardware industry, UAP Limited has once again outdone themselves with this innovative and stylish offering.
Built to Last
Durability is a hallmark of UAP Limited's products, and the Duo Handle is no exception. Meticulously crafted from high-quality materials, this handle is built to withstand the test of time and resist daily wear and tear. Whether used in a bustling office or a busy household, the Duo Handle will retain its flawless appearance and reliable performance for years to come.
DDA/EA Compliant
The DUO door handle has a tube shaped handle, which gives a very comfortable grip when operating. As the DUO handle suits all needs – working as an attractive high quality lever handle whilst being DDA/EA compliant – it allows fabricators to carry just one handle in stock to satisfy a number of different applications. The DUO door handle has a lever that is curved to the door, making it compliant to DDA (Disability Discrimination Act) regulations, making it ideal for applications where aesthetics and compliance are key.
Versatility for Every Door
UAP Limited understands the importance of adaptability, and the Duo Handle reflects this philosophy. Available in various sizes to accommodate different door types, it fits seamlessly into a wide range of applications. Moreover, its user-friendly installation ensures that customers can effortlessly upgrade their doors without any hassle.
Elegance Meets Functionality
The Duo Handle is a perfect marriage of elegance and functionality. Crafted with a keen eye for design, it effortlessly enhances the aesthetics of any door. The handle's sleek lines and contemporary finishes, such as white, black, mirror polished, satin stainless and PVD Gold lend an air of sophistication to both residential and commercial spaces. But it's not just about looks; the Duo Handle is designed for optimal functionality, offering a smooth grip and effortless operation every time.
Uncompromising Customer Satisfaction
At UAP Limited, customer satisfaction is a top priority. The Duo Handle comes with a commitment to excellence and a guarantee of quality. This reassurance further underscores the confidence that UAP Limited has in their product and their dedication to providing the best for their customers. UAP Duo handle is available in the BIM library.
Conclusion
In conclusion, UAP Limited's Duo Handle is a testament to the company's unwavering commitment to innovation, quality, and customer satisfaction. With its stunning design, unmatched durability, and versatility, the Duo Handle is a must-have addition to any door. If you're looking to elevate the aesthetics and functionality of your doors, look no further than the Duo Handle from UAP Limited – a true gem in the world of door hardware.
For more information about UAP Duo Door Handle DDA EA, please visit the product page.