History of UAP
"It started with a door knocker…"
Walt Disney famously started with a drawing of a Mouse, and in 1996 we started with just a door knocker – it was that from which UAP was born. As a company we have grown to include over 3000 product lines, export to more than 25 different countries and have established 5 additional brands, which range from door hardware solutions, to locksmith tools and home security products. The huge growth at UAP since then has been as a result of huge investment in product development, and the pioneering spirit to always seek a better solution.
1996
How It All Began.. Universal Imports
In 1996 we set up under the name 'Universal Imports.' We initially began importing door knockers and the standard door knockers supplied were made from brass and then lacquered – there were no PVD, stainless steel or zinc options. If you wanted a product with a hole in it then you had to drill it yourself; if you wanted a product coloured white or black then you had to go and get it powder coated yourself. The stories of famous companies having their staff use Tippex to cover up where the white powder coating had been missed are sadly true.
We knew there had to be a better way, which is why we went directly to the factories to see how things were done. We went directly to the buyers to see how they wanted things done and as a result became the first company to supply pre-finished products!
Everything, from start to finish was completed at the factories and products were ready to be handed to the customer right off the shelf – whether they wanted black, white, brass or chrome.
1998
Solargale
For the previous couple of years we has started to import more products including brass numerals and door viewers. We had also started to distribute letterplates. As well as being agents for flat thermoplastic sheets and woodgrain foiling, we started to develop machinery for door skin manufacture. It was at this time we started to make door panels under the name 'Solargale.' This was a small operation, run solely by our MD (in 2000 we went on to selling door panel presses to door manufacturers.)
1999
Bank House
Initially UAP was run from a small home office. In 1999 we built our first head office in Bury – Bank House, and it was in 2000 when we officially started to trade from Bank House, and our MD employed his first official employee – Wendy Rushton, who is still with us today as our Operations Director!
2000
UAP Ltd
In 2000 we changed the company name from Universal Imports to UAP Ltd. Many people have asked what UAP stands for, and we will let our MD explain:
"UAP came about following a trip to India in 2000. We needed a shorter name than Universal Imports to put on hardware. I had a long long journey to India followed by a 6 hour drive in a car whose exhaust fell off half way and needed welding back on. After 6 hours we arrived at a factory which was called Akhil in temperatures in excess of 120 degree. As you can guess by now I was not in the best of moods. The factory owner steps up and says 'are you happy.' 'No I'm not' came my reply. To which he repeated the question with an even more gritty reply. He then pointed to a sign he had painted – Universal Akhil Partnership …UAP… 'Are you happy' in his broken English. That was a godly event and the 3 letters have been used ever since!"
2000
Stainless Steel Hardware
We started to investigate door hardware in coastal areas and how differently it was affected by the conditions there. It was an incident at Windscale in Cumbria which led to the production of the first hardware using an electrophoretic coating rather than a standard clear lacquer, and with it we were able to offer extended lifetime guarantees. We were also the first company to use PVD Gold on zamak for our door knocker collection.
Hardware tarnishing in Swansea in the early noughties created the need to pioneer stainless steel letterplates that resisted corrosion. There was an incident in Swansea where several hardware manufacturers had PVD coated products on doors, however every product had rusted. Our MD went down to Swansea to investigate the problem. Walking along the coast he noticed a metal lifeguards box that had not rusted, unlike all the hardware. After a bit of investigation he found out that the box was made from stainless steel, and this eventually lead to the Nanocoast revolution!
2003
ISO9001
In 2003 we passed ISO9001, and also got our first BSi Kitemark accrediation. We also stopped making door panels to concentrate on other products.
2004
Suited Range
In 2004 we developed the first suited range of door numerals using the Times Roman font as a demand for more uniform sized numerals became apparent. We started making window panels, and bought a bevel company, where we started to sell bevels to window companies.
2006
Glassmaster
In 2006 we invested further in to the bevel market, and created Glassmaster Safe 2 Bond. Until Glassmaster, there was only a choice between UV bevel bonding with its health and safety issues, and the non-UV White Light system. But because White Light bevel bonding systems cure using natural or ambient light, different light conditions from factory to factory can affect the cure time. In fact as the natural light conditions change during the day even, so can the curing time. We overcame this issue by developing a new type of White Light box and by also working equally well with customers' existing UV light boxes, Glassmaster Pro 2-in-1 was universally acceptable no matter what variance in light conditions may be found, or which light system the user preferred.
2007
Pickbuster
It has been our constant desire to push boundaries that has driven our expansion. In 2007 lock bumping was quite new, and we developed Pickbuster, which was a high tack lubricant which was easily applied to the inside of a cylinder lock are protecting against bumping. We sold a lot of this product to homeowners, with it being heavily promoted on QVC.
We were the first to introduce an anti-bump cylinder using Pickbuster (nowadays our cylinders are mechanically anti-bump,) and we developed the sacrificial cut shim to stop banana shaped cylinders when they are dropped during the manufacturing process.
It was also in 2007 we bought our first unit in Whitefield which became our warehouse.
2007
DCWC Nepal
In 2007 we got involved with a charity called DCWC Nepal (Development of Women and Children Centre.) After attending a local auction for the charity, our MD David Jennings approached Gary who ran the charity and said UAP would like to build a school in Nepal. The first school was built very quickly in Bhimphedi, in the Makwanpur district of Nepal. With one school UAP went on to build another 4, and even raised all the funds for a hospital to be built!
2008
Genuine Lishi
This year saw our first collaboration with industry leading locksmith Martin Pink. With it came the development of the Genuine Lishi brand which has literally revolutionised the auto locksmith industry. Genuine Lishi is today distributed in many countries around the World.
2009
Tradelocks
2009 saw the launch of Tradelocks, our brand for locksmith tools and equipment. As we wanted to concentrate on the hardware and the Tradelocks brand, we stopped making glass and windows. Our first unit in Whitefield was become too full, so we bought a second warehouse with offices (which today has become our head office.) In 2010 we also stopped supplying bevels.
2011
Locksmith Department
In 2011 we opened our locksmith department, offering in house locksmith services for keyed alike and mastersuite cylinders. At this time our sales and marketing team were still based at Bank House in Bury, and our warehouse was in Whitefield, making communication difficult. With the second warehouse bought in Whitefield, we moved out of Bank House and located both sales and marketing to Whitefield.
2012
MAX6MUM SECURITY
2012 saw the launch of MAX6MUM SECURITY, our home security brand aimed at the consumer. We spotted a gap in the market for high quality, specified, door and window security that was both affordable and easy to fit. With MAX6 launched, we also became the South Stand sponsors of Leeds United Football Club, where we heavily promoted the range.
2013
Testing Department
In 2013 we bought our first product testing machines, which has since turned into our own testing department. Every batch of products are tested in our salt spray, all weather and UV machines, as well as having specific machines for different products i.e. our letterplate flap cycle machine. It was in this year where UAP really started to become the company it is today, and in this year alone we employed 5 external sales people! We also bought a this warehouse in Whitefield for our overflow stock.
2014
3D Printing
In 2014 we bought our first 3D printing machine (we now currently have 5.) This gave us the facility to 3D print samples and products in house to make sure we are always ahead with our product development and innovation.
2014
1st Call Lockouts
In 2014 we also bought 1st Call Lockouts, which gave us the facility to offer locksmith training courses, which are run from Whitefield.
2015
Keyline Master Distributor
In 2015 we became the UK master distributor for Keyline key cutting machines – the oldest key machine manufacturer in the World.
2015
New Extension
In 2015 we also started to build an extension on to the head office, as we needed more office space.
2016
Sales and Marketing Re-Location
Early 2016 we completed the new extension, and sales and marketing both re-located there. We also built a new reception, huge board room and a staff canteen. We continue to invest in the best people, the best systems and strive to find the best possible solutions for every product.
2016
Acquisition of City Safe UK
In November 2016 we acquired City Safe UK who are a well established southern based distributor of locksmith tools and security products.
2016
Acquisition of Fullex Locks
In December 2016 we acquired Fullex Locks, which was a strategic move to establish UAP even further into the fenestration and door industry.
Fullex have a fantastic brand reputation, and a remarkable range of high quality products, and we believed with our input we can increase and enhance the Fullex brand significantly.
2017
Took Over 2 New Warehouses
With the addition of Citysafe and Fullex, we needed to expand out warehousing facilities. We acquired a further 2 warehouses on the estate, taking number of warehouses we operate from on the estate to 5.
2018
Maven MBO
In September 2018, we completed a £20 million management buyout by Maven Capital Partners; aligning ourselves with a pro-active private equity house who shared our vision for growth. David Jennings became CEO and our management team was strengthened with several key appointments.
2019
UAP Reorganises as a Co-operative
In the summer of 2019, we became a co-operative, with every single employee owning a share of the business and benefiting from its future success.
History of the UAP Website
1998
2004

2006
2010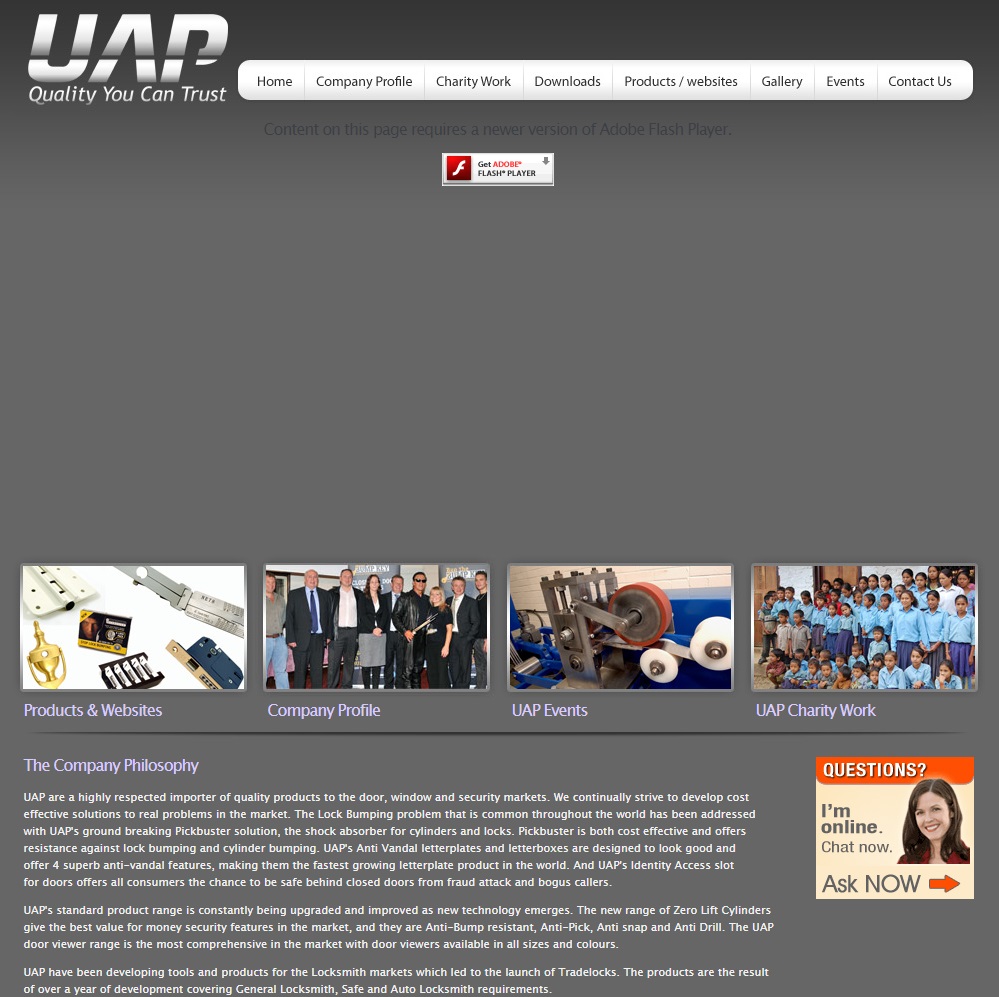 2011
2013
2016