Charity Work
One of the main aims of UAP is to promote equality and diversity, and to then give something back to the community. Although we have already built up an unrivalled reputation for excellence, reliability and service we want our company name to stand for even more, which is why we are determined to make a difference to the world – locally, regionally and globally.
Over the years we have supported a great number of charitable causes from sponsored cycle rides in the North West to building schools in Nepal.
Charity Highlights:
School Projects Through DCWC Nepal

Together with local charity DCWC Nepal, UAP has been instrumental in building five brand new, much-needed community schools and a hospital in Nepal.
Nepal is one of the poorest countries in the world, and before this scheme was set up children as young as 5 had no other option but to endure a gruelling four-hour walk to and from school, and this was before commencing a seven-hour day. The scheme has since given over 1000 children the opportunity to learn, which in turn improves their quality of life significantly and enables them to receive the education they so desperately crave.
DCWC Nepal is a registered UK charity, based in Fylde, Western Lancashire (DCWC Nepal website). This particular charity was founded with the primary intention to provide more effective support to its colleagues at the Development of Women and Children Centre in Nepal.
UAP has raised a fantastic amount of cash for DCWC Nepal and has funded filming for a documentary about the wonderful work that the charity carries out on a daily basis. After amassing an impressive £15,000 at a charity event, we also sponsored another successful charity ball, inviting 100 lucky UAP customers as guests of the company. The evening raised £10,000.
Cash for Kids
UAP has joined forces with Key 103 Cash for Kids to provide children with an essential winter wardrobe and a special day to remember at Key 103's Mini Jingle Ball – an annual Christmas party for disabled and disadvantaged children living in Manchester.
We will be sponsoring the Mini Jingle Ball, and after discovering that some children attended last year's event without a coat or shoes, we have formed a Care Grant to provide 80 children with a coat, school shoes, socks and a hat, glove and scarf set. In total, we will be donating £19,000 to Cash for Kids.
UAP staff will be getting involved; purchasing the clothes, wrapping the packages and attaching a personal message to each. Several of the team will also volunteer at the Mini Jingle Ball.
UAP's David Jennings said: "As a local company, we have a responsibility to help where we can. The Mini Jingle Ball presents the perfect opportunity to do this. We have been given the chance to give under-privileged children experiences that most young people take for granted, such as attending a party, visiting Father Christmas and receiving a Christmas present.
"When we heard that children attended the event last year without shoes or a coat, I knew that I could not let that happen again. I asked Cash for Kids to help us form a Care Grant so that we could provide the children with winter essentials. We all feel very strongly for this cause and are looking forward to getting stuck in and doing something special for these kids!"
Comic Relief
One charitable endeavour for Comic Relief saw us secure the winning bid for Kate Garraway ('Daybreak' presenter, former 'Strictly Come Dancing' contestant and founder of discount website goodypass.com) and David Morrissey (respected actor and director) to 'super follow' UAP on Twitter.
While benefitting from our contribution, the super follow also used the celebrity profile of both Kate and David to raise awareness of Comic Relief and help them continue to support communities across the UK and abroad.
Red Cross
The Japan tsunami and earthquake disaster was such a distressing and traumatic event, and a sum of money was donated to the Red Cross on behalf of UAP. It was a shame that we could not do more to help the victims affected by this terrible disaster, but we have such faith in the unwavering efforts of those who are involved in rebuilding Japan and our thoughts are with everyone who has suffered the detrimental effects of this catastrophe.
Our latest charity work took form in the guise of the hugely-successful 'Twitrelief.' We were the proud victors when it came to winning the bids for Kate Garraway (entertainment editor of 'Daybreak', contestant on the 2007 series of 'Strictly Come Dancing' and founder of discount website goodypass.com) and David Morrissey (established actor and director, most recognised for his role as The Governor in 'The Walking Dead') to 'super follow' @UAPLimited on Twitter (we have since re-launched this account as @UAP_TRADELOCKS).
This resulted in UAP contributing a huge amount of cash to Comic Relief, so that they continue to help communities in desperate need across the entirety of the United Kingdom and the world's most disadvantaged areas. We also raised awareness through these high-profile, well-known celebrities (who between them have almost 50,000 followers) and constantly research how we can generate consumer interest as well as raise money for excellent causes throughout Great Britain-and beyond.
Feeding the Homeless with Bury Housing Concern
Having opened a cafe and catering facility on our premises, we offered a lifeline to local homeless people, those who depended on the not-for-profit charity – Bury Housing Concern.
We pledged to donate enough food to feed up to 120 people per week for an entire year, as well as providing the charity with a soup kettle, and giving the charity a sum of money each month to help with bus fares etc.
As well as this, we worked with Bury Housing Concern to make sure all of their door and windows in their building were safe and secure, and offered free checks and home security upgrades on properties used in their rehousing scheme.
Sponsorship of Tim Fairley (MD at PDS) and Pat Rice for the Charity Bike Ride
In the 2015 we were the official sponsors of Tim and Pat's incredible charity bike ride along the Granfondo Stelvio in Italy, which was in aid of Springhill Hospice in Rochdale.
Tim is an enthusiastic cycler and undergone many bike rides to raise money for charity – but this was his most challenging yet. The pair followed in the pedal strokes of many world class cyclists to conquer the Stelvio and Mortirolo passes.
The Passo dello Stelvio is a mountain pass in northern Italy with an elevation of 2,757m above sea level – and one of the toughest climbs used in most professional bike races. Tim alone managed to raise £1781.10 for the cause and we were extremely proud to have had him wear the UAP logo throughout his ride.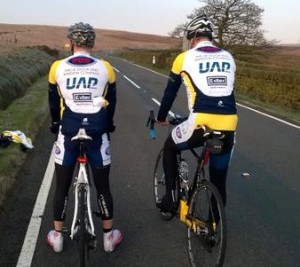 Sponsorship of 2 trophies for Manchester and North East Cheshire Carnival Organisation
We were also the sponsors of not 1 but 2 carnival trophies for MANECCO. This is a fantastic charity that put on carnivals in the area and see competitors' battle it out in various dance and performance categories. A selection of groups took part in this year's competition held at Butlins and we were more than happy to supply the trophies that 2 lucky winners walked away with.
Sponsoring Unsworth Juniors FC
UAP are always trying to do their bit to support the local community and have been doing so by sponsoring local football teams and providing kits for their players. It's often difficult for these small teams to find the funds to supply quality kits with them being costly and in constant need of replacement season on season.
This junior team train every Tuesday at Castlefield in Unsworth, just a ten minute walk away from UAP. They dominated the league last season, losing just 1 game and went on to win the competition – moving up to the championship. They also came runners up in the cup final after an unlucky defeat of 3-2 by a premier league team.
Sponsoring Radcliffe Borough Juniors FC
We have become the official kit sponsors of The Radcliffe Borough Juniors who play in the North Bury Junior Football league.
This fantastic set of players compete every week with great passion. The team are currently unbeaten this season with a record so far of 4 games won and 1 drawn. They've already scored 35 goals and conceded just 6. This is a team on the up and their great new kit goes perfectly with the great team they are!
Sponsoring Little Lever Sports Club Under 7s
This team of 8 play every Saturday at the Macron Stadium in the Bolton Arena and although the team have only been playing together since the beginning of the year they are going from strength to strength.
They had an unlucky start to the season, but since getting their new UAP kits the team won 3-1 in their first game and 6-0 later the same day. More recently they have won 8-1 and 9-0. Their fantastic performance has meant being put up to a higher division and playing with more experienced teams – it's all in the kits!
Macmillan Coffee Morning
On the 27th of September, we held our first coffee morning in aid of the cancer charity Macmillan, helping to raise a huge £331.70, plus a generous donation of £500 from our CEO, totaling £831.70.
Our staff made some fantastic cakes worthy of a bake-off handshake and got together to play some games such as Guess The Baby (guessing which baby photo is which UAP staff member), and Dunk the Biscuit in the Cuppa.
David Jennings Pledges to Support the Encephalitis Society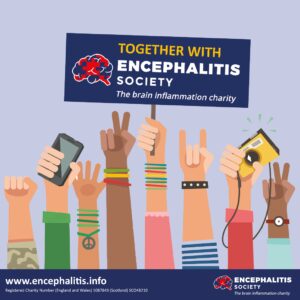 In 2020, David Jennings, CEO of UAP Limited, pledged to financially support the Encephalitis Society, a charity that aims to raise awareness of encephalitis and support those affected. His generous donation of £150,000 will be given across three years to fund various schemes and initiatives created by the charity that aim to raise awareness of encephalitis and generate helpful resources and fundamental research.
Encephalitis is inflammation of the brain, caused by an infection or through the immune system attacking the brain by mistake. Encephalitis can affect anyone at any age, with up to 6,000 cases each year in the UK.
David's contribution will be used to fund two major projects over three years, which will include working with Encephalitis specialists to create content for young people affected by the condition and connecting them with peers to provide a sense of community.
UAP GIVES BACK WITH PPE DONATIONS

As part of our 25th anniversary celebrations in 2021, we've been giving PPE equipment to local charities and community groups.
Quick to prepare for the pandemic early in 2020 after warnings from our supply chain partners, we invested in producing its own high-quality PPE for our team and to offer a trusted reliable PPE supply to our customers.
We donated more than 10,000 face masks, 42,000 litres of hand sanitiser, 5000 pairs of gloves at Christmas 2020 as part of our charity commitment. With the North West battling against the spread of the Delta Variant in June 2021, we took the decision to give back to the communities in areas local to our North Manchester HQ by offering free PPE supplies.
Amongst the charities to have benefitted from our PPE donations so far are the North West's Emmaus charities, who work hard to end homelessness across South Manchester, Bolton, Mossley, Preston and Salford. Bolton Hospice, which cares for people with terminal or life-limiting illnesses and their families, and provides end-of-life care, has also benefitted from our PPE donations.
We are also donating PPE to 20 mosques across Bury, Prestwich, Bolton, Cheetham Hill, Blackburn, Ramsbottom, Manchester, Rusholme and Worsley, including the Jamia Khizra Masjid mosque in Bury.
We have further donated to a few local schools to help them such as: Green End Primary School, Christ the King Primary School, Chorlton Park Primary School, Burnage academy for boys.
Thanks to the our manufacturing resources, we can supply face masks for both adults and children, along with hand sanitisers and visors.