UAP Fire Rated Door Hinges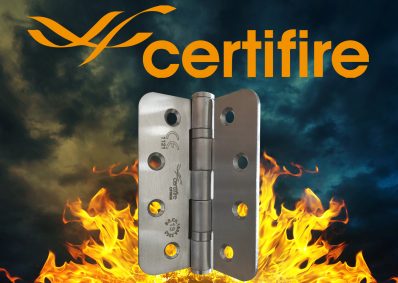 Features Include:
Suitable for timber doors
Tested to Certifire FD30 and FD60
Dimensions 102mm x 71mm
Can fit on either the left or right side of a door
Made from 316 grade stainless steel
Each door hinge comes with a LIFETIME coating guarantee!
Tested to EN1935:2002
Available in Satin Stainless finish
Fire Testing Standards:
| | | |
| --- | --- | --- |
| Protection Time | Door Material | Certifire Specification |
| FD60 – 60 Minutes | Timber | Yes |
| FD30 – 30 Minutes | Timber | Yes |
The UAP Fire Rated Door Hinges are versatile butt type hinges which have been designed for timber doors and fit either on the left or on the right side of a door.
Though many consider the hinges to be simply what holds the doors in place they actually play a major role in door security. This special door hardware goes far beyond the obvious and its durability and overall strength is essential to ensuring that intruders stay out.
These fantastic Fire Rated Door Hinges are 44mm and have not only been tested in accordance with EN1935:2002 standards, but they also meet Certifire testing standards for both FD30 and FD60. Receiving Certifire certification means that after stringent testing the Fire Rated Door Hinge has proven to withstand the effects of a fire and remain intact on the door for at least 30 minutes.
These door hinges are made from 316 grade stainless steel and will match your door hardware perfectly. As part of the Nanocoast range, the UAP Fire Rated Door Hinge comes with an industry first LIFETIME coating guarantee, as they will not pit, rust or corrode no matter what environments you put them in!