TL Budget Thumb Turn Euro Cylinder
Features Include:
Supplied with 3 keys
Has 6 pins
Part of the UAP cylinder guarantee scheme
Has a peanut shaped thumb turn
Patented anti bump feature
3 anti-pick pins per side
4 hardened steel anti-drill pins per side
Unrestricted keyway makes it easier for customers to get keys cut using the TL key blank
Restricted section keyways available in a range of sizes
Can be keyed alike or mastersuited to UAP+ 1* Kitemarked cylinders, Kinetica 3* cylinders and UAP rim cylinders
The TL budget thumb turn euro cylinder is a great choice for inexpensive home security installation. The high quality 6 pin budget thumb turn euro cylinder come in a range of sizes to make sure the cylinder is fit flush to the handle, in order to ward off criminals that attempt to use the most popular break-in methods.
Part of the UAP Cylinder Guarantee Scheme
The cylinder comes with a key fob which includes a serial number. Customers can register the cylinder on our website to activate their 2 year guarantee. What's more, customers will also have access to 'My Keys.' This allows the customer to keep a record of their key number and an image, so if they ever lost all of their keys, they can log in to the website and simply take the key number and image to a key cutter to get cut. This will save them the expense of having to replace their cylinder!
Each thumb turn cylinder is packed full of security features, and is part of UAP super smooth cylinder system using the Chris Belcher designed anti-bump timing pin system. This very clever system uses nickel plated hardened steel key pins and driver pins, which gives the anti-drill feature we wanted to incorporate. The Patented timing pins are designed to interrupt the timing of the pins when bumped, and it is highly effective. And because we use special pins rather than trap pins, we do not have a high expense to get this anti-bump feature! The timing pins also have inbuilt anti-picks, and mushroom driver pins, which makes them highly effective against picking.
We have in-house locksmiths which offer you the option to have keyed alike cylinders, or create customised and complex mastersuite systems. Alternatively, we can supply re-pinning kits which will allow you to key alike and mastersuite the cylinders yourself!
Please Note – Cylinders with an external 25mm side (30mm side if you measure X/X) cannot be keyed alike to a bigger size cylinder which does not have an external 25mm side due to the pin spacing. For example, a 25T-10-25 cylinder cannot be keyed alike to a 30T-10-30 cylinder. However a 25T-10-25 cylinder can be keyed alike to a 25-10-65T cylinder.
Product Codes:
Thumb turn is on the 'T' side of the code
| | | | | |
| --- | --- | --- | --- | --- |
| Overall Size | Split (X-10-X) | Split (X/X) | Brass Code | Nickel Code |
| 70mm | 30T-10-30 | 35T/35 | TL35T/35B | TL35T/35N |
| 80mm | 35T-10-35 | 40T/40 | TL40T/40B | TL40T/40N |
| 90mm | 30T-10-50 | 35T/55 | – | TL35T/55N |
| 90mm | 35T-10-45 | 40T/50 | TL40T/50B | TL40T/50N |
| 90mm | 35-10-45T | 40/50T | TL40/50TB | TL40/50TN |
| 90mm | 40T-10-40 | 45T/45 | TL45T/45B | TL45T/45N |
| 95mm | 35T-10-50 | 40T/55 | TL40T/55B | TL40T/55N |
| 95mm | 40T-10-45 | 45T/50 | TL45T/50B | TL45T/50N |
| 100mm | 40T-10-50 | 45T/55 | TL45T/55B | TL45T/55N |
| 100mm | 40-10-50T | 45/55T | TL45/55TB | TL45/55TN |
| 100mm | 45T-10-45 | 50T/50 | TL50T/50B | TL50T/50N |
Stocked Keyed Alike Cylinders:

We have a range of cylinders that we stock in keyed alike in pairs on the shelf. Each pair are the same size and finish, and have been keyed alike together to work with the same key.
| | | | | |
| --- | --- | --- | --- | --- |
| Overall Size | Split (X-10-X) | Split (X/X) | Brass Code | Nickel Code |
| 70mm | 30T-10-30 | 35T/35 | TL35T/35BKAP | TL35T/35NKAP |
| 90mm | 35-10-45T | 40/50T | TL40/50TBKAP | TL40/50TNKAP |
| 90mm | 35T-10-45 | 40T/50 | TL40T/50BKAP | TL40T/50NKAP |
| 100mm | 40T-10-50 | 45T/55 |  – | TL45T/55NKAP |
| 100mm | 45T-10-45 | 50T/50 | TL50T/50BKAP | TL50T/50NKAP |

| | | |
| --- | --- | --- |
|  Plug Size | Brass Code |  Nickel Code |
| 30mm | ZL30-RESTRICTEDPLUG-BRASS | ZL30-RESTRICTEDPLUG-NICKEL |
| 35mm | ZL35-RESTRICTEDPLUG-BRASS | ZL35-RESTRICTEDPLUG-NICKEL |
| 40mm | ZL40-RESTRICTEDPLUG-BRASS | ZL40-RESTRICTEDPLUG-NICKEL |
| 45mm | ZL45-RESTRICTEDPLUG-BRASS | ZL45-RESTRICTEDPLUG-NICKEL |
Technical Info:

ANTI-BUMP
The cylinder has a unique and patented anti-bump system which does not use trap pins. This system makes the turning of the cylinder key extra smooth.

ANTI-DRILL
4 x hardened steel anti-drill pins are in each side of the cylinder. Plus all moving pins are nickel plated hardened steel 50 HRC minimum.

ANTI-PICK
Minimum of 3 anti-pick pins in each side of the cylinder makes it extremely difficult for a common burglar to pick the cylinder.
At UAP we are constantly striving to improve on the products we already supply as well as develop new, pioneering ranges and practical product solutions.
With an in house testing centre and product developer, each stage of the development process is thorough, from the initial design right down to the final product. In house 3D printing technology allows for further and more precise advancement of our products which are then expertly manufactured and put through stringent testing conditions using in house test equipment – ensuring all products are designed to the highest standards:
Cylinder Cycle Machine
This sophisticated machine tests the rotational operation of cylinder locks, ensuring a lock will continue to function even after being used in thousands of openings. It replicates the action of a key being inserted into the cylinder and it being turned, just as a product would be operated when fitted into a door. The product is tested to 100,000 repetitions to ensure it continues to function even after thousands of turns. It allows UAP to perform tests in accordance with BS EN 1303:2015 standards.
Cylinder Snapping Test
In accordance with PAS24, the test challenges the security features of a cylinder. An attempt is made to gain access through the cylinder by defeating its protective features, and then applying twisting or bending force to snap the cylinder and access its mechanism. Typically, the handle will first be ripped off, and then mole grips are used to try and make a larger hole around the cylinder. The cylinder is then snapped and attempts are made to turn the cam. A tester has 3 minutes in total to remove all protective hardware and defeat the cylinder, and only certain tools can be used if it cannot be done in this time then the cylinder will pass.
 Salt Spray Test
This machine tests the corrosion resistance of the door locks. The salt spray cabinet produces a corrosive environment, by releasing a dense saline fog into the chamber which the door locks are exposed to. This creates an accelerated corrosion of the door lock and allows us to test how well the lock would stand up in harsher environments.
All Weather Machine
When placed in the all-weather machine, the door locks are subjected to conditions including high UV exposure using a Xenon Arc Lamp which will accelerate UV degradation and measure how well a door lock can last in extreme conditions. Other conditions such as rain and extreme heat can be generated by the machine to expose the door lock to all kinds of environments. This allows us to continually improve the door locks and make them so they last longer in all kinds of different environments.
Brochures and Tech Sheets: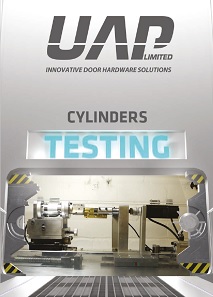 Cylinder Guarantee:
UAP Ltd distribute a wide range of euro cylinders, rim cylinders and key blanks.
We guarantee the cylinders and finishes against the following:
Surface Coating Failure
Coating Guarantee = the sooner of "the guarantee supplied for the door or window from the manufacturer" or "2 years inland."
We guarantee that the cylinders will not tarnish on the door for the guarantee period given above subject to;
1. The cylinders are applied to a door or door panel, and no item of door furniture on the door or door panel are sealed or fixed using any form of silicone sealant or the like.
2. The cylinder is fixed correctly and the right way around using the correct fixings, and are not scratched or damaged at any time during the installation process or thereafter.
3. The cylinder is installed inland (defined as 25 miles from the coast or 5 miles from highly populated industrial areas) and are cleaned monthly with a moist cloth. At no point should any form of cleaning agents be used.
4. The internal workings of the cylinder are lightly sprayed with silicone based lubricant (or similar) every 4 weeks.
5. No claim will be accepted for any cylinder that is scratched or mutilated or fitted incorrectly.
6. The guarantee only applies if the cylinder is fixed to the original door for which it was bought and fitted by the installer. The guarantee will cease immediately if the cylinder is removed from the original door or door panel.
Mechanical Failure
Mechanical Guarantee = the sooner of "the guarantee supplied for the door or window from the manufacturer" or "2 years."
We guarantee that the cylinder will not fail mechanically the door for the guarantee period given above subject to the conditions outlined above.
Claiming Under the Guarantee
Every product must be inspected before they are fitted on to a door, window frame or door panel for any defects. If any defects are found then the product must not be fitted and the fault reported immediately to UAP Limited. Any product fitted is assumed to have been inspected and approved as being fit for purpose.
To make a claim under the guarantee, UAP Limited must receive in writing the product code of the item, the full details of the problem, the date the product was purchased, the date of manufacture of the unit in question and the address of the installation.
We will require all 'faulty' items to be sent to ourselves at the address below by first class recorded delivery post. We will then examine the item in question and confirm whether the item is covered by the guarantee. If it is not covered by the guarantee we will advise you, the customer, in writing of the reason for rejecting the claim.
Limitations of the Guarantee
UAP Limited's guarantee will be limited solely to the replacement of the item purchased from UAP. There is no liability whatsoever for consequential damages or costs, howsoever calculated or incurred. UAP Limited will enforce and rely fully upon their terms and conditions of sale in all aspects other than the limitation set out above. UAP will also pay for the cost of the recorded delivery, if and only if, the product is deemed to be covered by the terms of the guarantee set out above.
Payment of the Guarantee
UAP reserve the right to discharge the guarantee claim in the form of replacement products at the customer's normal buying price at the time of the complaint being received by UAP Limited.
Time Limit on Guarantee Claims
UAP will only be liable for claims made within a maximum period of 10 years from the date of purchase of the products from UAP Limited.
Correspondence Address for all Guarantee Claims
Any guarantee claim must adhere to the system set out above in all respects and must be made in writing to: UAP Limited, Unit 1 Albert Close Trading Estate, Whitefield, Manchester, M45 8EH.
The terms of this guarantee may be varied by UAP Limited at any time at our own discretion. Please see www.uapcorporate.com for up to date product guarantees.