8 Inch Victorian Urn Slimline Door Knocker With Universal fixing
Click for

360°

image view
Loading 360&deg Product View
Features Include:
Classic Victorian style look
Easy to cut flexi nylon bolts will never rust
Comes with colour matched nuts and washers
Patented unique hidden fixing mechanism
When using the self-adhesive fixing it is possible to take the door knocker back off the door with relative ease using a stanley knife
Waterproof seal stops rusting behind the door knocker
Available with and without a hole for door viewers
Engravable area if needed for logos, text and numerals etc
Up to a 10 year coating guarantee
It is no secret that a decorative, ornamental door knocker can really improve and enhance the overall appearance of an entrance door, and add substantial value onto a property.
Designed for effectiveness, and built to last, the 8"  Victorian Urn Slimline Door Knockers with universal fixing add class and style to any front door as they are universally appealing and aesthetically pleasing. With its slim vertical profile the 8" Slimline Victorian Urn  is ideal for doors with planks, panels or mouldings and their timeless, elegant appearance means that they are always in demand.
The exquisite 8" Victorian Slimline Urn with universal fixing is the latest addition to our already vast range of door knockers. This new clever universal fixing system brings together the bolt fix and the self-adhesive systems into one product, helping you save stock space while offering you the freedom to choose which type of fixing to use at the very last minute.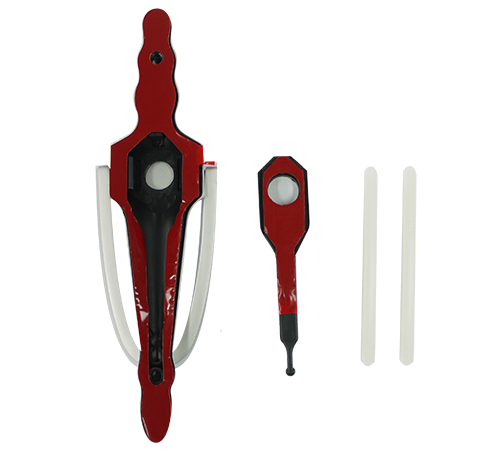 Bolt fix option
The bolt fix option on the 8" Victorian Slimline urn door knocker comes with 2 perfectly-matching solid brass nuts and washers for effective colour co-ordination. The door knocker is fitted onto the door using revolutionary nylon bolts, which can fit door thicknesses of up to 75mm. They are incredibly easy to cut down to size if needs be-and all you need is a Stanley knife in order to complete this task-so no more sawing.
The nylon bolts also do not condensate or rust, which means that your company's door will look pristine and impressive to your customers for an extended period of time, adding to an excellent customer perception of your company as a whole.
Self-adhesive option
The self-adhesive fixing on the 8" Slimline Victorian Urn Door Knocker  has a super-strong, waterproof adhesive covering, so fixing a door knocker has never been so simple. It is a Patented, innovative and original product, which makes it highly desirable amongst customers looking for something affordable, cost-effective and durable. Demand for a Hidden Fix Door Knocker has increased substantially in the last few years, as it eliminates the requirement for drilling, bolting and measuring. Hidden Fix Door Knockers are easy to install and are used extensively in composite doors.
This innovative Hidden Fix design completely removes the requirement to drill through the door, resulting in a far smoother and cleaner look on the inside. The risk of rot and water permeation is also eradicated, meaning call outs for remedial work on liable water damage will not be necessary. With the correct implementation, Hidden Fix Door Knockers can also be removed with ease and efficiency, leaving no damage to the door.
Every Hidden Fix Door Knocker comprises of a 'lollipop', which is fitted onto a door with two small screws. The screw fixings are surrounded by a high quality, self-adhesive, closed cell foam tape which helps location of the 'lollipop' and prevents water from seeping into the door. The Hidden Fix Door Knocker has been designed so that when the 'lollipop' has been secured tot he door, the Victorian urn door knocker simply clicks onto the lollipop to secure it into place. The Victorian urn also has self adhesive tape on the back, to secure it further.
One massive advantage this has to fabricators is that you are able to fit the 'lollipop' onto the door at the factory during production. As the door knocker is very easy to clip into place, you can then keep it separate whilst the door is in transit, and then clip in on at site. This will ensure that the door knocker will not get damaged, chipped or scratched during transportation.
Once the door knocker body is attached to the 'lollipop', we recommend you leave the self adhesive tape to set for 24 hours before trying to pull it off. Once set, it becomes extremely secure and cannot be pulled off the door as the self-adhesive backing adds extra security and durability, as well as preventing water ingress. The end result is an eye-catching, aesthetically appealing Hidden Fix Door Knocker, which offers fool-proof ease of use as well as maximum protection from the elements.
Door Viewer
Each universal fixing door knocker allows the option to include a hole for a door viewer for extra security and protection. So if you really want to safeguard your customer's property and make sure that it remains burglar-free all year round then we highly recommend that you invest in door viewers as well as door knockers.
For more details please contact our sales team on 0161 796 7268.