Introducing the Fullex Fire Door Slam Shut Autolock!
Fullex's recent expansion of their extensive multipoint locks range includes the brand new fire door slam shut autolock.
For Fullex customers this is a very positive move. Fullex will be able to offer a wider product range for safety, security and convenience. With their fire rated hardware, you'll have peace of mind that you're providing your customers with the very best.
Based on the popular Crimebeater lock, the fire door slam shut autodoor offers a highly secure and reliable locking solution for timber and composite doors.
When combined with our bespoke intumescent kits placed on the lock and keeps, the fire door slam shut autolock will allow options in FD30/60.  Both the 30 minute and 60 minute fire rated versions are developed using innovative materials designed to slow down the spread of fire through a door and have been stringently fire tested to meet the strict quality criteria.
A fire door is more than just a door. It's a vital element to any building and forms a crucial line of defence against a fire. Fullex's goal is to provide products that are not only highly secure but are designed to keep properties safe.
Functionality
The newly arrived slam shut autolock has an actuator unit positioned between the centre case and the top bolt. When the door is closed a trigger in the actuator is depressed by a strike plate fitted to the outer frame which allows the actuator to drive the top and bottom bolts.
To secure a property, a single rotation of the key then locks the door.
The slam shut lock incorporates a dual spindle, featuring two square drives to operate the lock. This means the external handle can operate all the locking points but will not withdraw the latch, which is now only operable from the outside by the cylinder.
Testing and Guarantee
The system has been cycle tested to 50,000 operations, corrosion resistance tested to BS EN 1670 Grade 5 for 480 hours and comes with a 10 year guarantee.
Maximum Security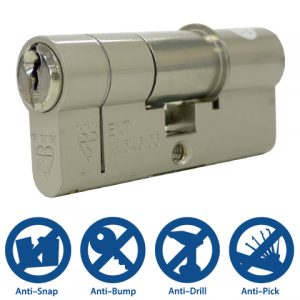 As with all Fullex locks, the fire door slam shut lock is perfect to combine with the Kinetica 3* Kitemarked Euro Cylinder, giving you a solution that offers high security, reliability and easy operation.
The Kinetica is a combination of the expertise from UAP and Fullex, utilising UAP's patented timing pin system and the Fullex anti-snap solution – providing maximum protection from cylinder snapping, lock bumping, drilling and picking attacks.
The Kinetica cylinder has the highest Kitemark rating for cylinders and is not only Secured by Design accredited, it has achieved Sold Secured SS312 Diamond Standard too.
Head here for more information or call a member of our team today on 0161 796 7268.