UAP Ltd Product of the Month: Door Packs Range
UAP Ltd Product of the Month: Intelligent Hardware Door Packs
UAP Ltd is thrilled to introduce the Product of the Month: Intelligent Hardware Door Packs. This range has been designed with precision and innovation, including four exceptional variants – the Latch Pack, Lock Pack, Bathroom Pack, and Fire Door Packs  – geared towards enhancing safety and security in homes, buildings and workplaces. Intelligent Hardware Door Packs offer convenience for our customers and the end user as all the product required for a particular door application is supplied in one box with all screws and fixings.
Why you should consider investing in a new door packs range:  
Privacy: Internal door packs with secure locks ensure that occupants can have their personal space and privacy.
Security: In larger buildings or establishments, secure internal locks can prevent unauthorized personnel from gaining access to restricted areas.
Control: Locks on internal doors provide control over who can access specific spaces. This is valuable in both residential and commercial settings.
Property Protection: Internal locks can also protect personal belongings within a space.
Why Choose UAP Ltd's Door Packs Range? 
UAP Ltd has always been at the forefront of producing innovative and high-quality security solutions, and their Door Pack Range is no exception. Locks on internal doors have many advantages that enhance the security, privacy, and efficiency of a space. Here are some reasons why you should think about buying this amazing product range:
1. Enhanced Safety: Protect your loved ones while you are enjoying the moments with them.
2. Versatility: You can find the perfect fit for any door type or room with four main variants.
3. Durable Build: Each restrictor is engineered with top-notch materials, ensuring durability and longevity.
4. Easy Installation: UAP Ltd prioritizes user convenience, and the Door Packs are designed for straightforward installation.
5. Peace of Mind: By choosing UAP Ltd's Door Packs Range, you are investing in a reliable and trusted security solution.
Even IF you would like to have a lockable door pack or keyless door pack we are here to help you find the perfect pack for your needs. These are the 4 main categories of door packs but there are many more types on request.
1. Latch Door Pack: 
With convenience in mind, UAP Ltd has introduced. the latch door pack. This innovative door pack operates without needing keys, and ensures easy operation for adults and children. It is a user-friendly solution that offers a seamless blend of functionality and aesthetics.  seamlessly blends with simplicity and conveniency.
The latch door pack consist of the following components:
1 Pair of Lever Handles
1 Tubular Latch (either 65mm or 75mm)
1 or 1.5 pairs of hinges, generally 75mm x 50mm Ball Bearing
2. Lock Door Pack: 
At UAP Ltd we believe that safety should always be a top priority, especially for our loved ones. Our Lock door pack can provide the perfect solution for keeping the door locked securely and preventing unauthorized access. Made from durable materials, our restrictors can withstand the test of time and offer peace of mind to homeowners, knowing their internal doors are securely protected.
The Lock door pack consist of the following components.
1 Pair of Lever Handles
1 x 3-Lever Sash lock (Either 65mm or 75mm)
2 Lever Key Escutcheons
1 or 1-5 Pairs of hinges generally 75mm x 50mm Ball Bearing
3. Bathroom Lock Door Pack: 
When you need to both secure and have privacy for your bathroom room we have the solutions for you. The bathroom lock door pack from UAP Ltd provides the privacy you need for your bathroom yet at the same time elevates the style in the room.
The Bathroom door pack consist of the following components.
1 Pair of Lever Handles
1 Bathroom Lock (Either 65mm or 75mm)
1 Bathroom Turn & Release
1 or 1.5 Pairs of hinges generally 75mmx 50mm Ball Bearing
4. Fire Door Pack:
At UAP Ltd, we understand that finding the right products for fire doors is critical, as it can save lives. The fire door pack have been carefully selected by our hardware experts, creating a full fire-safe solution, allowing you to choose with full confidence.
The Fire door pack consist of the following components.
1 Pair Of Lever Handles
1 x 3-Lever Sash lock (Either 65mm or 75mm)
2 Lever Key Escutcheons
1 or 1-5 Pairs of fire rated hinges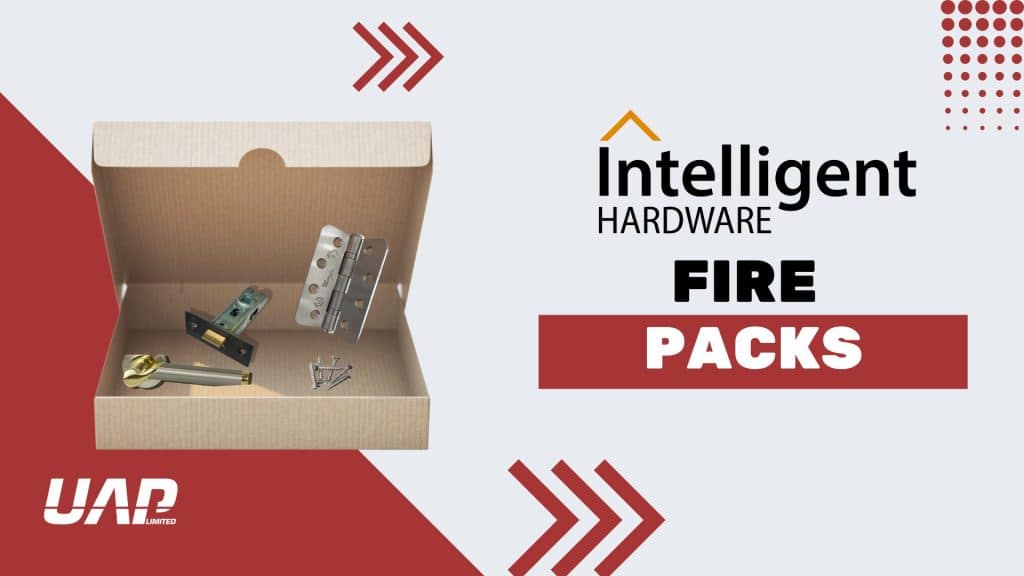 At UAP Ltd, we believe that our customers deserve to have a big variety or internal door pack options, so we lunched our full set of door packs in a big number of handle styles and finishes to choose from. The door packs are coming to over 90 handle options and over 17 finishes.
Intelligent Hardware offers the option to create bespoke door hardware packs for our customers, complete with branded boxes, which is a testament to our commitment to providing personalized and exceptional service. In a world where customization reigns supreme, we understand that homeowners and businesses seek functional door hardware and a touch of individuality that reflects their unique style and preferences. By allowing customers to curate their door hardware packages, we empower them to tailor every aspect of their entryways, from the choice of handles and locks to the finishing touches of branded packaging. This personalized approach enhances the aesthetic appeal of their doors and ensures that each element meets their specific security and design requirements. As we go the extra mile to create an unforgettable experience, our bespoke door hardware packs with branded boxes will leave a lasting impression on our valued customers.
UAP Ltd's Door Pack Range is the perfect choice for enhancing the safety and security of your home or workplace this September. Whether you need a Lockable, Keyless, or Fire tested pack, you can trust these products to protect you and your loved ones from any unwanted intruders or accidents. Don't miss this chance to upgrade your internal doors and enjoy the benefits of safety and convenience with UAP Ltd's amazing product range!
Visit our customer trade portal to check ready-to-ship stock or get in touch with our Sales Team for bespoke pack creation available with your own branding: sales@uaplimited.com
For more information, please visit the UAP website.