From Directors To Dogs, The UAP Team Were All Dressed Up For World Encephalitis Day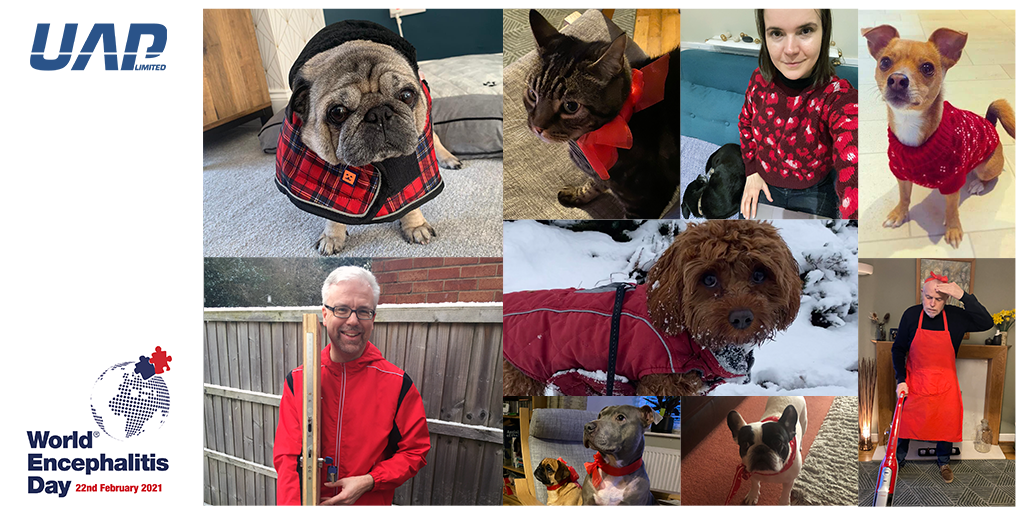 There was a rosy glow amongst the UAP team this week as we dressed in red to support World Encephalitis Day on 22nd February for the Encephalitis Society.
Thanks to the pandemic, we have largely been working from home for the past year but social distancing couldn't stop the fun with many of the team getting their four-legged 'office assistants' involved and dressing them in red as part of the fun!
CEO, David Jennings, has recently been appointed as Vice President of the Encephalitis Society in the UK. The cause is close to his heart following the loss of his brother to the condition several years ago and he was pleased that so many colleagues got behind the effort to raise the profile for much needed research, education and support for people affected by Encephalitis and their families.
"Challenging everyone to get involved and share their photos of their red outfits and their pets was a great way for a little team banter," says David. "One of the toughest things about the past year has been keeping the team ethos and camaraderie alive while everyone is working remotely so a simple thing like posting pictures of pets in their red outfits has really brought everyone together."
Amongst the humans supporting World Encephalitis Day were marketing director Kamila Kasperowicz and Product Certification Manager Julian Roberts, while four-legged furry companions dressing in red for the day included Holly the Jack Russell, Darcy the French Bulldog and Lola the Cavapoo.
Kamila added: "Wearing red for the day was not just a way of having fun it was a way of showing solidarity for all the people affected by Encephalitis. UAP has a long track record of supporting charities and good causes, from local homelessness organisations and sponsoring grass roots sports, through to planting trees and funding construction of community schools in Nepal. We always know when we ask the team to get involved that they will be on board and I've loved seeing all the pictures."