UAP Security Mail Bags
Click for

360°

image view
Loading 360&deg Product View
Features Include:
Designed for the elderly and social housing
Mail collects in the pouch and doesn't fall onto the floor
Prevents people slipping on letters that have fallen onto the floor
Made using a fire retardant uPVC frame
Has a universal slot to fit all different upstands in the UAP 12 inch letterboxes
Comes complete and ready to fit – not additional cut outs needs to be made on the door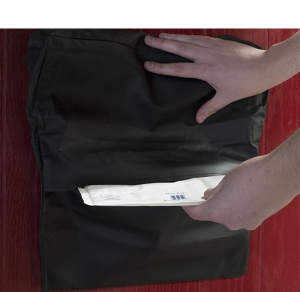 UAP security mail bags are designed specifically to work with all UAP 12 inch letterplates, and it is universal to fit 20-40mm and 40-80mm letterboxes. The mail bags features a lightweight and slim design which will not in any way interfere with the overall look for the door and at the same time improve door security. The UAP mail bags can be fitted onto uPVC, composite and wooden doors and are available in white, black, and brown.
The mail bags are developed to ensure easier retrieval of post, improve home security by preventing manipulation of the door lock through the post opening, and further draft proofing the home. Though not an absolute necessity they are certainly that extra step towards comfort, security, and overall better post protection.
As the UAP security mail bag is attached directly onto the UAP letterplate, it is difficult for potential burglars to attempt "key fishing" or manipulate the lock through the letterbox opening thus ensuring added front door security.
In addition, if your customer has limited mobility or are elderly, and cannot bend down to pick up post from the floor, the UAP mail bags are a great solution. All of the post is collected within the pouch, which is ideal for social housing, as it prevents people slipping on letters that have fallen onto the floor.
Once the post is collected within the zipped up bag it is easy to retrieve the contents. As the bags are large everything from regular letters to newspapers and magazines can easily fit within without sticking out of the crevice. For homeowners with pets such as dogs, this is also a great solution to keep post safe from animals that enjoy ripping up newspapers and letters as they drop through the letterbox.