NEW Aluminium Case for Kinetica+ K4 Horizontal and Vertical Cylinders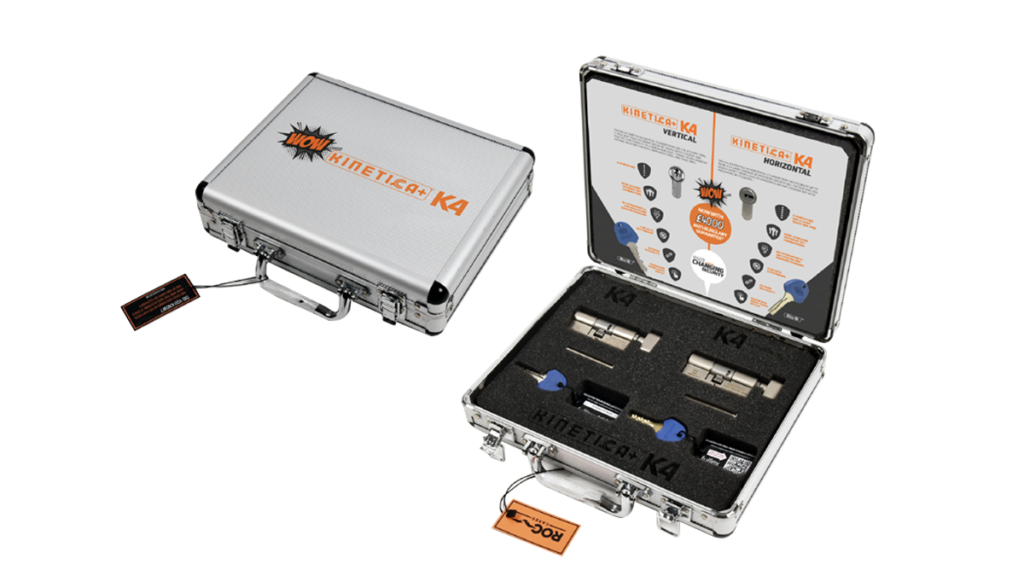 We have now launched our Kinetica+ K4 aluminium box set, containing two Kinetica+ K4 thumb-turn euro cylinders in vertical and horizontal keyways. This is the perfect way to purchase the range, complete with a handy, high-quality storage case.
Due to the success of the Kinetica+ K4 vertical cylinder, we recently launches its horizontal keyway counterpart to improve installation time and reduce security risks for the end-user.
The locks, under our Fullex range, back up their name as game changers, providing you with all the features you would expect from a quality lock and much more. Not only are they super secure with intelligent cam technology, they come equipped with three genius Bio Keys to reduce the spread of bacteria.
The vertical design features six dimple pins and offers over 200,000 various key combinations. The newly launched horizontal cylinder boasts six dimple pins and five laser track side pins to improve security. In doing so, the keyway is much smaller, enabling only one orientation of key insertion and therefore making it much harder to attack the cylinder.
Accredited through 'Secured by Design' and with a guaranteed one-hour fire rating, the K4 locks and aluminium case comes with a £4000 anti-burglary guarantee. It's also BSI Kitemark and Sold Secure Diamond approved.
Kamila Kasperowicz, Marketing Director at UAP Ltd said:
"Our Kinetica K4+ horizontal and vertical cylinders are suitable for both domestic and commercial properties. Following heavy investment and our commitment to quality, we've designed solutions with the installer and end-user in mind; providing ease of installation, maximum security and improved performance."
Learn more about Kinetica+ K4 Vertical and Horizontal cylinders here.