Hybrid Handles: See them for yourself!
Published on 24 May, 2016
Blog
High quality and cost effective, our Hybrid Door Handles are revolutionary. We have designed a handle which has comfort, quality, outside conditions and even cost accounted for in the design.
Special Features
• An outer handle made from 316 marine grade stainless steel
• An inner handle made with cost effective Zamak
• Tube handle with comfortable grip
• Sea salt spray tested to ASTM B117 for 2,000 hours
• The outer handle comes with a lifetime coating guarantee as part of the Nanocoast range of door hardware
• Available with both a 219mm backplate and a 243mm backplate
• Available with a mirror polished, satin stainless or PVD gold finish
• Tested in accordance with BS EN 1906:2015 standards to 20,000 repetitions
---

Handle Cycle Testing Machine
The machine imitates the action of the door being pushed down in an opening and repeats this 20,000 times, to test its durability. The axial and rotational operation of lever handles is being tested to make sure in can withstand numerous openings and remain functional. We perform the test in accordance with BS EN 1906:2015.
BS EN 1906:2015 is the standard for lever handles and knob furniture delivered by the Door and Hardware Federation.
Salt Spray Testing Machine

This machine tests the corrosion resistance of products including letter plates, cylinders, door knockers, door letters/numerals, door viewers, handles and escutcheons. The salt spray cabinet produces a corrosive environment, by releasing a dense saline fog into the chamber which the products are exposed to. This creates accelerated corrosion to the product and allows us to test how well the product would stand up in harsher environments.

Products are tested for differing lengths of time depending on the standard requirements; hybrid handles along with other Nanocoast products are tested to 2000 hours, and given a LIFETIME coating guarantee.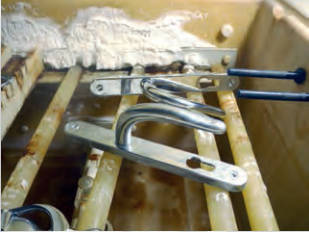 ---
Security
And remember… a Hybrid Handle plus UAP 2* Cylinder Guard and 1* Kitemarked Cylinder equals the maximum 3* security.
To get yours go to: http://uapcorporate.com/