Explore our Door knocker range!
Published on 1 June, 2018
Blog
It is no secret that a decorative, ornamental door knocker can really improve and enhance the overall appearance of an entrance door, and add substantial value onto a property.
As well as the classic Victorian style, we offer a vast range of decorative door knockers to enhance both period and contemporary properties.
From exquisite lion heads to traditional styles, our assortment of timeless knockers are visually impressive and available in up to 9 different finishes!
With self-adhesive and bolt through fixing options available – we stock door knockers for every requirement!
Lion's head knockers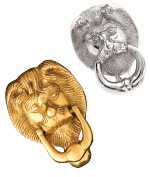 Our lion's head range is certainly something to roar about. Ideal for all door rose centres or unglazed doors, they are the perfect centrepiece for any door.
Made from solid brass, you can choose from 4 different types of lion's head!
Ponytail knockers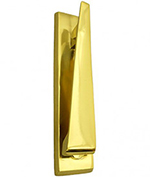 Our ponytail certainly isn't a one-trick pony. It perfectly merges timeless, eclectic Art Deco styling with traditional elements of a classic knocker, making it ideal for more modern, contemporary home exteriors. Featuring attractive asymmetric lines with a clean, understated, elegant striking plate, it is extremely eye-catching.
Doctor knockers
A timeless accessory to improve any entrance door, our doctor door knocker range certainly does make quite a statement. Although, traditionally associated with identifying a doctor's door, its elaborate and unique design will complement various home exteriors, particularly modern and contemporary styles.

Scroll knockers
With a luxurious and unique shaped striking plate our scroll knockers will transform the look of any door. Whether you choose the elegant oval Georgian style or the exquisite signature Victorian style, this scroll knocker is the perfect way to add style and traditional charm to contemporary properties.
Oval knockers
Don't let this beautifully modest ring design fool you. Add it to any front door and witness a perfect match for both period and contemporary homes. With its stylish and attractive solid brass traditional design, our oval knocker range is sure to create an instant and long lasting impression.