Doormaster Letter Plates: Made for the 21st Century
Published on 1 June, 2016
Blog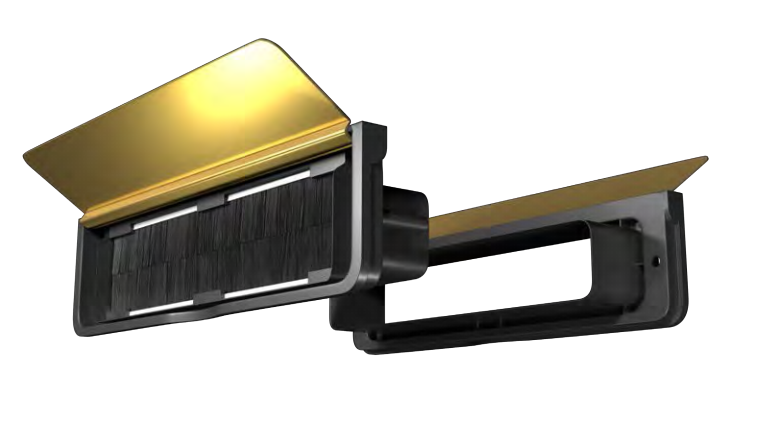 Contemporary in style, secure in its design, attractive on any door! Doormaster is the modern letter plate made to protect the home and perfect the door.
Available in either 10 inch (250mm) or 12 inch (300mm), Doormaster letter plates are the ideal choice if you are looking for a product which is both modern and incorporates anti-vandal features. The range consists of an enclosed, rounded flap, set against a shallower frame, giving a less intrusive but sleek feel to the door frame.
Each Doormaster letter plate has a central sleeve, meaning that it can fit in waste (mid) rails. The cavity dimensions also mean that you do not need to change CNC machines routing dimensions in order to change this stylish letterbox.
Doormaster products retain all the established elements of the ever popular Framemaster with features that make it easy to insert post and avoid receiving crinkled letters and with the incorporation of a 180 degree flap. Unlike most letter plates in the industry these products use an 180 degree flap with ultra-flexible springs; this means the flap can withstand hundreds of openings without snapping and allows the plate to cope with added pressure. An internal water seal also prevents water getting into the door or panel – which stops letters getting wet as they are posted through and it prevents pit and corrosion for an even longer lasting product. This shows Doormaster is practical as well as prevailing.
All letter plates conform to BS EN 13724 testing standards.
---

Anti-Vandal Features 
 Letter plates can often provide an easy target for vandals! Fires can be started when fireworks are pushed through letterboxes, which is why the Doormaster collection incorporates outward facing brushes. Not only does this act as a visual deterrent to vandals, as it means the internal cavity is not easily accessible, but it makes it a lot harder to put unwanted items through the door. These outward facing brushes not only act as an anti-vandal feature but also stop draughts at the point of entry – creating extra draught proofing for the home.
Blind bolts are used on the exterior of the letter plate which prevents the outer frame from being removed – adding extra security to an external door.
---

Finish 
Doormaster letter plates are available in 5 finishes including Gold and Silver Anodised, Black and White or Polished Silver. They have a matt finished plastic frame which conceals any scratches that may be caused by screwdrivers during installation.
To find out more about Doormaster products go to:  http://uapcorporate.com/product/uap-12-inch-doormaster-letterplate/ or contact the UAP sales team on 0161 796 7268.