#UAPchilli Recipe of the Month: December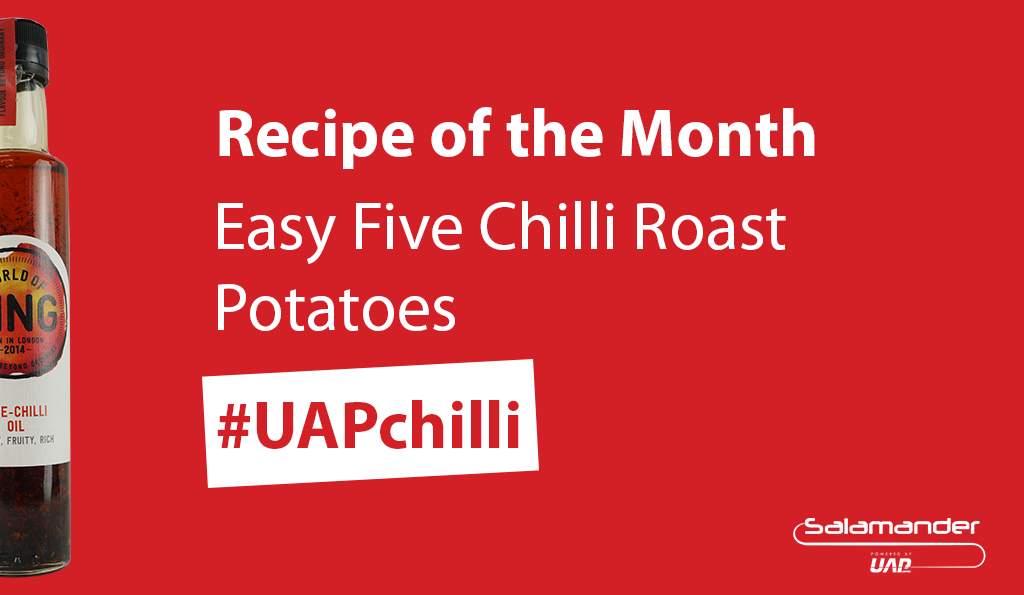 Need inspiration on how to use this month's mouth-watering giveaway?  Impress your guests this Christmas – find out how to use World of Zing's Five-Chilli Oil with help from UAP
Looking for a tasty way to use your Five-Chilli Oil? This easy roast potato recipe should do the trick. A Christmas dinner essential with a fiery twist, we can't think of a better way to discover a new taste sensation!
Easy Five Chilli Roast Potatoes
Ingredients
1kg floury potatoes
Five-Chilli Oil by World of Zing
Method
1. Preheat the oven to 220C/200C Fan/Gas 7.
2. Peel your potatoes and chop into big chunks. Partially cook in salted boiling water for five minutes and drain. Toss in the pan to roughen the edges.
3. Pour a generous tablespoon of World of Zing's Five Chilli Oil into a roasting tin and put in the oven. Remove when smoking. Carefully remove the tin from the oven and add your potatoes to the Five Chilli Oil, shaking them about as you do so.
4. Place the roasting tin back into the oven and cook your potatoes for about an hour until they are crisp and golden on the outside but soft in the middle. Remember to turn your potatoes over from time to time whilst cooking to ensure they colour on all sides.
Get sharing
Please share your food and drink creations on social media, mentioning @UAP_Limited (Twitter) and @uaplimited (Facebook) using the hashtag #UAPchilli.
Visit uapcorpotate.com/chilli/ for terms and conditions and for more information about #UAPchilli.