UAP Posts Two Additions to Soterian Letterplate Range
UAP has enhanced its Soterian Letterplate range with two new innovations that provide a greater variety of aesthetic and practical choices.
Designed for seamless fitting to either the Soterian Standard or Soterian Slim range of letterplates, the new Soterian TS008 iPlate External Letterplate from UAP has been developed for installation with the UAP Soterian Slim internal letterplate section for use with any 44mm and 54mm composite or timber doors. Created for the high-end retail market and new build developments, the new iPlate enables specifiers to benefit from the robust security and ease of installation associated with UAP's Soterian TS008 Letterplates, while offering a choice of aesthetic.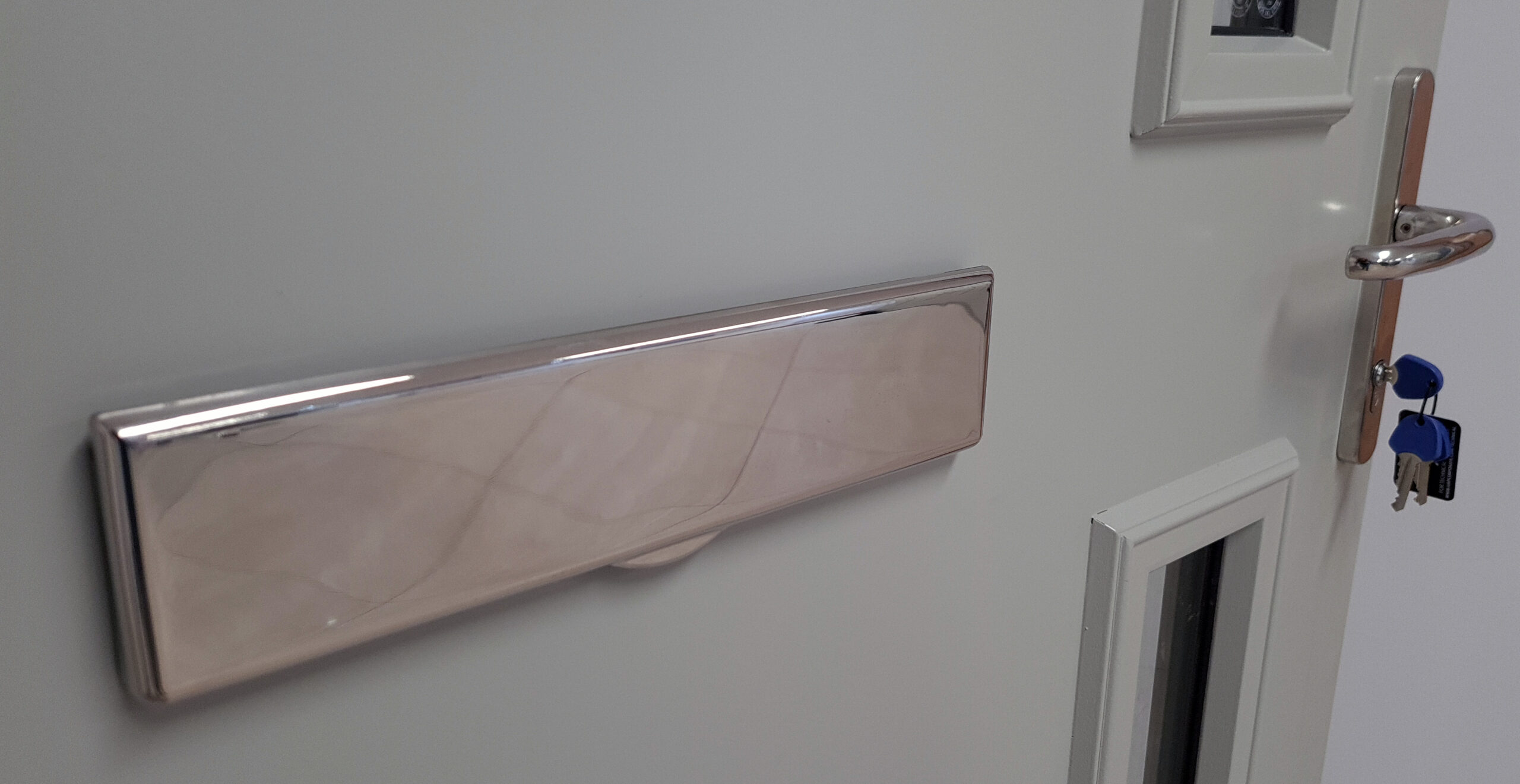 The new TS008 Soterian iPlate letterplate is internally sprung with UAP's reliable torsion bar, providing confidence of positive closure for the end user, while offering a sleek aesthetic with a unique frameless design. Along with traditional brushes in front of the aperture, the UAP iPlate also features outward-facing, draught-excluding brushes to discourage vandals from placing unwanted items in the cavity.
UAP's Technical Director, Julian Roberts explains: "Our Soterian range is a market-leading model of TS008 letterplates and, with the new iPlate, we believe we offer unparalleled choice for aesthetics, features, and security. The unique frameless design gives the new iPlate a stand-out appearance and it offers durable, corrosion-resistant door hardware in three on trend finishes: satin stainless, mirror polished stainless and PVD gold stainless."
In addition to the iPlate, UAP has also added a new inward opening option to its Soterian range for a more traditional inward opening design combined with a sleek, contemporary look suitable for modern homes.
Featuring a long lasting, super shiny surface finish in mirror polished stainless steel, satin stainless steel or PVD gold-coated stainless steel, the new inward opening Soterian letterplate has rounded and bevelled edges for a high-end, designer look.
Compatible with the UAP Soterian Slim internal letterplate section the inward opening Soterian letterplate is also designed for use with 44mm and 54mm composite and timber doors and offers quick and easy five-step fitting. The product's pivoting stay mechanism reduces the internal flap opening for protection against key fishing and lock manipulation, and there are no fixings to the exterior of the letterplate, preventing the outer frame from being unscrewed.
Julian adds: "When we developed the Soterian letterplate system, we envisaged a range of mix and match options that would enable customers to select the right Soterian Letterplate for each door and property. For the inward opening model, we studied Victorian letterplates and the inward opening systems that have been popular for generations, taking that concept and adapting it to include the security, ease of installation and aesthetic considerations that have made our Soterian range so successful."
"Both the new additions to our Soterian range has been cycle tested for 20,000 cycles to underscore durability. We believe they will make Soterian even more popular across the delivery chain, from door manufacturers and architectural ironmongery specialists through to contractors and homeowners."