UAP 1* Kitemarked Sacrificial Cut BLACK Euro Cylinder – Now In Stock!!!
Published on 15 January, 2015
Blog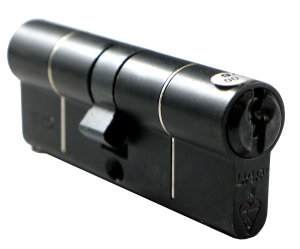 UAP is a name which is trusted and respected by door companies around the United Kingdom and Ireland due to our affordable prices, unbeatable products and professionalism. Recently, we have developed an extensive range of revolutionary 1* Kitemarked Sacrificial Cut Black Euro Cylinders, which conform to the highest of EN1303:2005 standards. 1* Kitemarked Anti-Snap Black Euro Cylinders have been re-engineered from our original Zerolift cylinders, and they not only combine all of the attractive, customer-friendly features of the original Zerolift, but are also packed with even more functions, including:
– Conforms to the very latest EN1303 regulations
– Full Mastersuite and Keyed Alike services available
– Available with a removable thumbturn for extra ease of use
– Over 80,000 different key combinations
– Unrestricted keyway-easier for customers to get keys cut
 Listed below are some other unique characteristics of the innovative, inventive 1* Kitemarked Sacrificial Cut Black Euro Cylinder:
Anti-Bump: The euro cylinder has a unique and patented anti-bump system which eliminates the need for trap pins. This particular system makes the turning of the cylinder key extra-smooth and effortless.
Anti-Pick: Minimum of 3 anti-pick pins in each side of the black cylinder lock makes it extremely difficult for a common burglar to pick the cylinder, so they will not be able to gain access into a property.
Sacrificial Cut: The cylinder lock has a sacrificial cut on each side, so when force is applied to either end the black cylinder will then break away to the sacrificial cut line only, leaving the remaining cylinder operational-and the locking mechanism remains intact.
Anti-Drill: 7 x hardened steel anti-drill pins are in each side of the 1* Kitemarked Sacrificial Cut Black Euro Cylinder. Additionally, all moving pins are nickel-plated hardened steel 50 HRC minimum.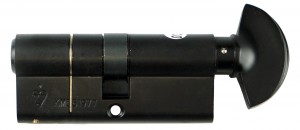 1* Kitemarked Sacrificial Cut Black Euro Cylinders are available in a stunning, classic black finish, so you will be able to match them perfectly to your door hardware. As leading suppliers of exceptional door hardware such as Euro Cylinders, Mortice Locks and Letterboxes, our products are considered to be the number-one choice for door manufacturers across Great Britain-and overseas. We constantly look at ways in which to develop and expand our already impressive catalogue of door hardware, hence why we recommend that you invest in durable, hard wearing and resilient 1* Kitemarked Sacrificial Cut Black Euro Cylinders. They are 100% original, built to last and come complete with even more rewarding attributes. These 1* Kitemarked Sacrificial Cut Black Euro Cylinders are also extremely affordable as we always keep prices to an absolute minimum, without compromising on quality.
For more information regarding our latest collection of 1* Kitemarked Sacrificial Cut Euro Cylinders, just get in touch with UAP today by calling our sales team on 0161 796 7268.