The New Adapt A Lever from Intelligent Hardware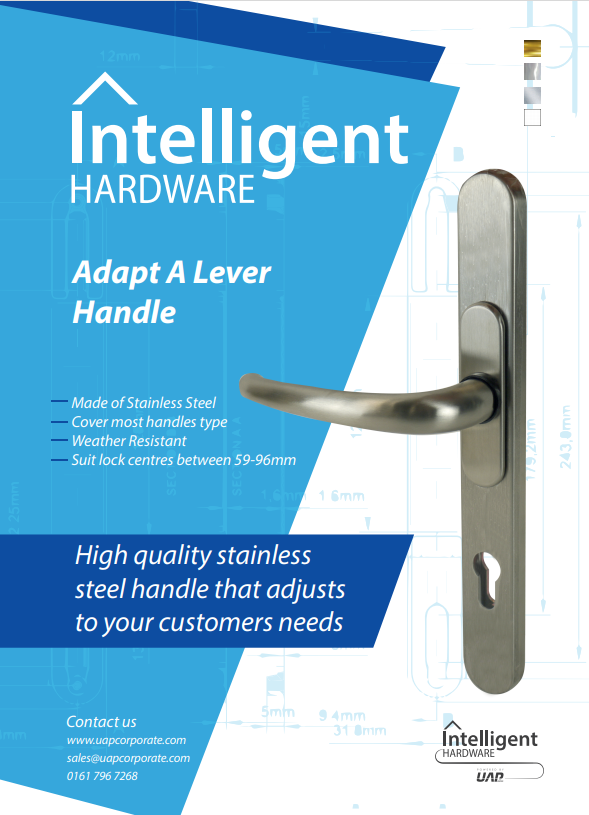 The new Adapt A Lever from Intelligent Hardware is a high quality and weather resistant stainless steel handle on a 290mm long backplate which can be easily adjusted to suit your needs. The handle's wide range of features makes it the ideal solution for installers looking to reduce the amount of van stock they carry.
The adaptable features include the vertical handle position which can suit lock centres between 59-96mm, the adaptable centres which allow easy installation on locks with offset centres, and the adaptable backplate which enables the handle to accommodate a wide range of spring centres. It can therefore cover most handle types on the market.
The Adapt A Lever also has a double spring mechanism which allows the handles to return to a horizontal position, a nylon seal on the sliding mechanism to provide ingress protection, and a concealed external fixing head and outer plate for increased security. The top bolt is also positioned to fit most locks by being longer than normal.
Finally, the handle is supplied complete with all plates, an 8mm solid spindle, the required fixings, and an Allen key. It is available in Satin Stainless Steel, White, Polished Stainless, and Polished Brass finishes.