Reach '3 Star Security' with UAP Door Hardware
Published on 1 November, 2016
Blog
We explain how you can achieve the coveted 3 star security rating on your doors by installing our door hardware in one of 4 combinations, using just 5 products.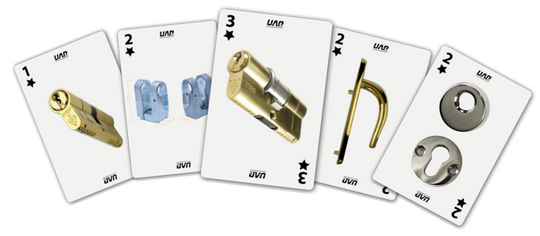 The TS007:2012, 3 star BSi Kitemark is the highest security rating for door hardware, and here is how you can achieve it.
Here are our 4 combinations to 3 star security:
The TS007:2012 2 Star Cylinder Guard combined with the UAP Zero Lift 1 Star Cylinder, is the most affordable way to get the benchmarked 3 star rating and is ideal for door manufacturers who want a low cost, high quality route.
The cylinder guard can be used with any door handle and is compatible with most locking systems. The guard fits inside the door and acts as a shield around the cylinder itself. It comprises of features such as a distinguishing hardened steel anti-drill plate, and an anti-axial rotational lug.
The UAP Zero Lift 1 Star Cylinder is also packed full of security features which include sacrificial cut lines on either side of the cylinder which break away when force is applied – protecting the locking mechanism and keeping it intact. This along with anti-drill pins, hardened steel anti-pick pins and the unique and patented anti-bump system creates an excellence defence against attack.
Our second combination also uses our 1 star cylinder but in conjunction with our 2 Star Kitemarked High Security Handle which is both easy fitting and attack resistant.
Our High Security Front Door Handle has both cylinder and handle snapping protection. Once fitted to the door the handle has been designed to defend against the most common break in methods, which is why it has achieved a 2 star rating and Secured by Design approval.
Alternatively to the door handle is the High Security Escutcheon which also has a 2 star rating. It has a bevelled edge which makes it extremely difficult for burglars to pull off; likewise the tensile strength fixing bolts secure the lock to the door so it cannot easily be removed
The handle or escutcheon alongside the UAP zero lift cylinder offer an attack resistant system. The cylinder has the unique ability to protect the lock from drilling attacks. The high security handle has an integrated cylinder guard, making it a tough lock for thieves to crack.
Our fourth and final solution to 3 star security comes from just one product – our 3 star Kitemarked cylinder. The cylinder meets growing demands to have maximum security in just one product, as fabricators understand more and more the consumer need for greater door security.
If you are looking for 3 star security in just one product, look no further than our Kinetica. Kinetica utilises our patented timing pin and zero lift technology just like our 1 star rated cylinder, but it also incorporates a very clever anti-tilt mechanism and an axial movement attack system. Put simply, the Kinetica has an excellent and effective defence when snapped.
For more information on how you can get ultimate door security go to: www.uapcorporate.com