Protect and Perfect Doors with our stylish DOORMASTER Letterplate range
Published on 1 March, 2018 | Blog
Our black frame DOORMASTER and Coloured DOORMASTER range is stylish, secure and built to last!
The DOORMASTER letterplate range boasts innovative features designed to not only help draught proof a home and make it easier for the postal service to post letters, but it also incorporates anti-vandal features.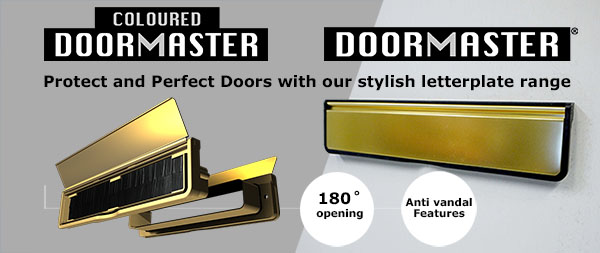 Anti-Vandal Features
The unique anti-vandal features are what set the DOORMASTER apart from anything else on the market, combining security with style!
The revolutionary outward facing brushes – a feature not found on any other standard letterplate – provide a visual deterrent to criminal activity. The brushes make it much more difficult for vandals to post unwanted items through the letterplate. Having the brushes on the front (as opposed to the back as with other letterplates) also prevents draughts at the point of entry, instead of letting it get into the cavity.
Blind bolts to the exterior of the letterplate prevent the outer frame from becoming unscrewed from the door externally.
180 degree flap
Each letterplate cleverly incorporates a 180 degree flap. The 180 degree flap means that they will not snap off when opened too far, which is a common problem with all 90 degree-opening letterplates.
Each letterplate has ultra-flexible springs which can withstand thousands of openings without breaking or losing efficiency, making them incredibly cost-effective. This added security feature also minimises the chance of the flap snapping – a result that is often caused by the flap being pushed open too far.
With the recent launch of our Coloured DOORMASTER letterplate we now offer all the original features of the black frame DOORMASTER but with the option of a colour match frame and flap for perfect coordination on any door.
So for a letterplate range that both protects and perfects the door look no further than the DOORMASTER range.
For more information call our sales team today on 0161 796 7268 or email sales@uapcorporate.com