Product of the Month: High Security Handles
Published on 22 February, 2016
Blog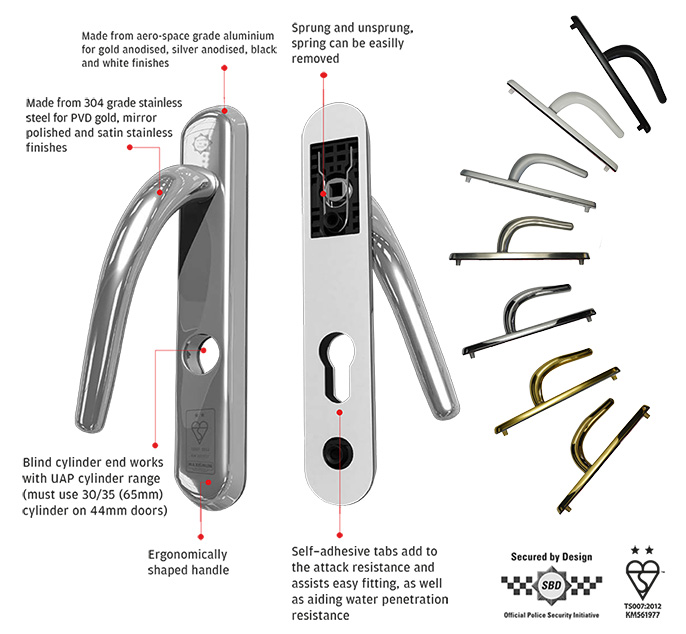 Ergonomically designed, Secured by Design Approved and 2* BSI Kitemarked; if you are looking for a stylish handle to finish off your door and also ensure your security, then the UAP High Security handle is the answer.
This secure piece of hardware can come either with a 219mm short back plate or a 243mm long back plate and is available in a range of finishes from gold/silver anodised, to satin stainless, mirror polished or in simple black/white.
There is absolutely no need to fit a cylinder guard as the already 2* Kitemarked handle has its own integrated one, which helps protect against drilling attacks. Only the plug of the cylinder is visible, helping protect the pins inside from being drilled.
Self-adhesive tabs do more than just make this product easy to fit; they add extra strength to the handle, helping protect it further from attack. These tabs also prevent water from penetrating the door, meaning the door hardware will stay rust and corrosion free for longer!
Some of the most common break in methods, such as cylinder and handle snapping are significantly more difficult with this handle and when paired with a 1* Kitemarked UAP cylinder you can achieve PAS24 3* door security.
If you choose you can get the handle as part of the Nanocoast range, made with 304 grade stainless steel and coming with a lifetime coating guarantee. The handles are 1 hour fire rated and highly durable – making sure you have a product that will not only protect but a product that will last!
Hybrid Handles
The NEW UAP hybrid handles have been designed for those who have style as a priority.
The outer handle is made from 316 grade stainless steel and the inner handle from zamac. This tube handle design has been made to provide the most comfortable grip and the product is available in either PVD gold or mirror polished.
Although the product is not Kitemarked, if fitted with a UAP 1* Cylinder paired with a 2* Cylinder Guard, maximum security can be achieved and affordably.
The product comes as a part of our Nanocoast collection and with our lifetime coating guarantee.
To get your hands on some of the most secure door hardware on the market, check out our selection of high security handles here.