NEW Fullex Key Wind Lock – Perfect for Pull Handles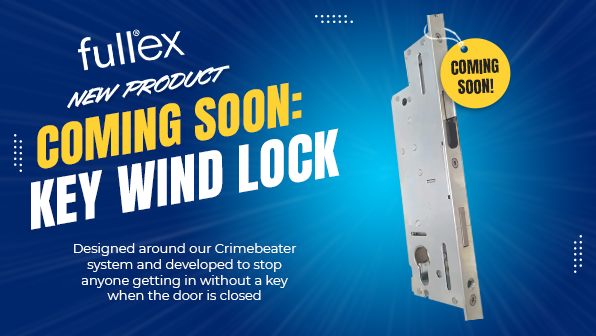 New to the Fullex range is the Fullex Key Wind lock; this new lock uses the key or thumbturn to engage and retract the bolts and the latch, rather than pushing up the handle, making it ideal for use with pull handles or other handles that cannot be lifted up or down. It was developed to stop anyone getting in without a key when the door is closed via using the latch. Once the door is closed, you cannot move the latch unless you have the key, therefore preventing entry by burglars.
The lock has a minimum key turning with less than half a turn, and offers low maintenance, low cost, and easy to use functionality, and suitable for composite, timber and aluminium doors.
It's based on our Fullex Crimebeater lock, which is engineered to provide long-term reliability and security. Widely specified, Fullex Crimebeater has been fitted to hundreds of thousands of doors in the UK.
The best and most economical system is to create a package of Pull Handle, Key Wind Lock, High Security Escutcheon and 1 Star cylinder, so we developed a matching escutcheon that fits the Key Wind Lock system. This lock also comes with a 10 year guarantee.