Make a statement with our suited stainless steel door hardware
Published on 3 April, 2018
Blog
Not only is our Nanocoast door hardware ultra-durable but they seamlessly complement one another to create an attractive and matching stainless steel solution for doors.
Using 316 grade stainless steel, the Nanocoast range are put through stringent testing to ensure they remain rust free and operational in high sea salt concentrated air and general industrially polluted areas.
To reinforce its quality and guarantee of retaining surface stability no matter what environments you place them in, all Nanocoast products come with a lifetime guarantee.
The range is available in three finishes: Mirror Polished, PVD Gold or Satin Stainless.
Numerals and letters
3 inches in height, a clear to read font and extremely easy to install; our selection of eye-catching door numerals and letters effortlessly complement any door.
Door numerals and letters are essential to make a home identifiable and will make it far easier for emergency services and the postal service to locate a property.
Available in a slim design and with a screw fix or a self-adhesive fitting option, the numerals can be fitted to any door or wall surface!
Door Knockers
The timeless Victorian Urn Knocker makes quite a statement – increasing the overall kerb appeal of the door. Choose between the 6 inch or the 8 inch slimlined design, designed with easy fitting and durability in mind.
You can opt for the bolt fix option or the hidden fix knocker. With the hidden fix technology, fixing a door knocker has never been so simple as the super-strong, waterproof adhesive covering eliminates the need to drill holes through the door.
The bolt fix option uses revolutionary nylon bolts, fitting a door thickness of up to 75mm and designed to combat the threat of rust, keeping the knocker looking pristine for an extended amount of time.
Door Handles
Designed with ease of fitting, durability and smooth operation in mind, our stylish front door handles offer the very best in product practicality and security.
With a range of both standard and 2 star Kitemarked, Secured by Design approved handles available with either a 219mm or 243mm backplate; we really do stock something for every requirement.
Letterplates
Available in a range of designs and finishes, our range incorporate anti-vandal features and Secured by Design accredited letterplates.
Nanocoast anti-vandal letterplates comprise of the IPlate letterplate, all stainless steel letterplates and Framemaster letterplates, with the option to choose the fire resistant versions.
The innovative anti-vandal features – in the form of outward facing brushes – not only provide a visual deterrent, but makes it much more difficult for vandals to post unwanted items through the letterplate.
Blind bolts on the exterior of the letterplate prevent the frame from being unscrewed externally, keeping homes safer.
Door Security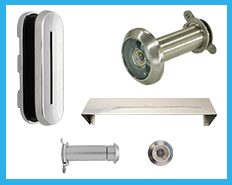 Door Viewers
Door viewers are a fundamental security accessory to ensure a door is further protected from bogus callers and door step crime.
Offering a simple yet highly effective home security measure, all of our viewers have undergone stringent testing; tested on angle of vision, corrosion resistance and visual clarity. Plus, we have our very own selection of Secured by Design spyholes.
Letterplate Restrictor Shroud
The Letterplate Restrictor Shroud is designed to combat the threat of key fishing by restricting the inner flap opening to less than 40 degrees, and so stopping the ability to manoeuvre a rod.
Available with the impressive Hidden Fix technology, the Letterplate Restrictor Shroud doesn't leave any visible fixings to the exterior of the home, protecting it from being simply removed from the outside.
ID card Slot
The Identity card entry slot is often overlooked, but is a great door security accessory for protection against bogus callers.
Having an identity card slot allows home owners to ask callers to pass through their ID to check who they are before opening up their home.
Pull Handle Range
We supply three styles of pull handles including straight, offset as well as a D shaped product. The straight and offset variations are available in a range of lengths and now includes a slim design in the straight pull handle range.
What set our handles apart are the three different fixing options – hidden fixings, bolt through and back to back. All of which offer an extremely strong fixing method whilst concealing the hidden fixings for a flawless finish.
Escutcheon
Whether you choose the standard escutcheon or the high security option packed with security features and now available with a pull grip fixture, the overall appearance of the escutcheon makes the perfect finishing touch to any front door.
To discuss our Nanocoast range in more detail contact a member of our team today!
Call: 0161 796 7268
or email: 
sales@uapcorporate.com