NEW Jargon-Free FIREMONGERY® Brochure for Flat Entrance Doors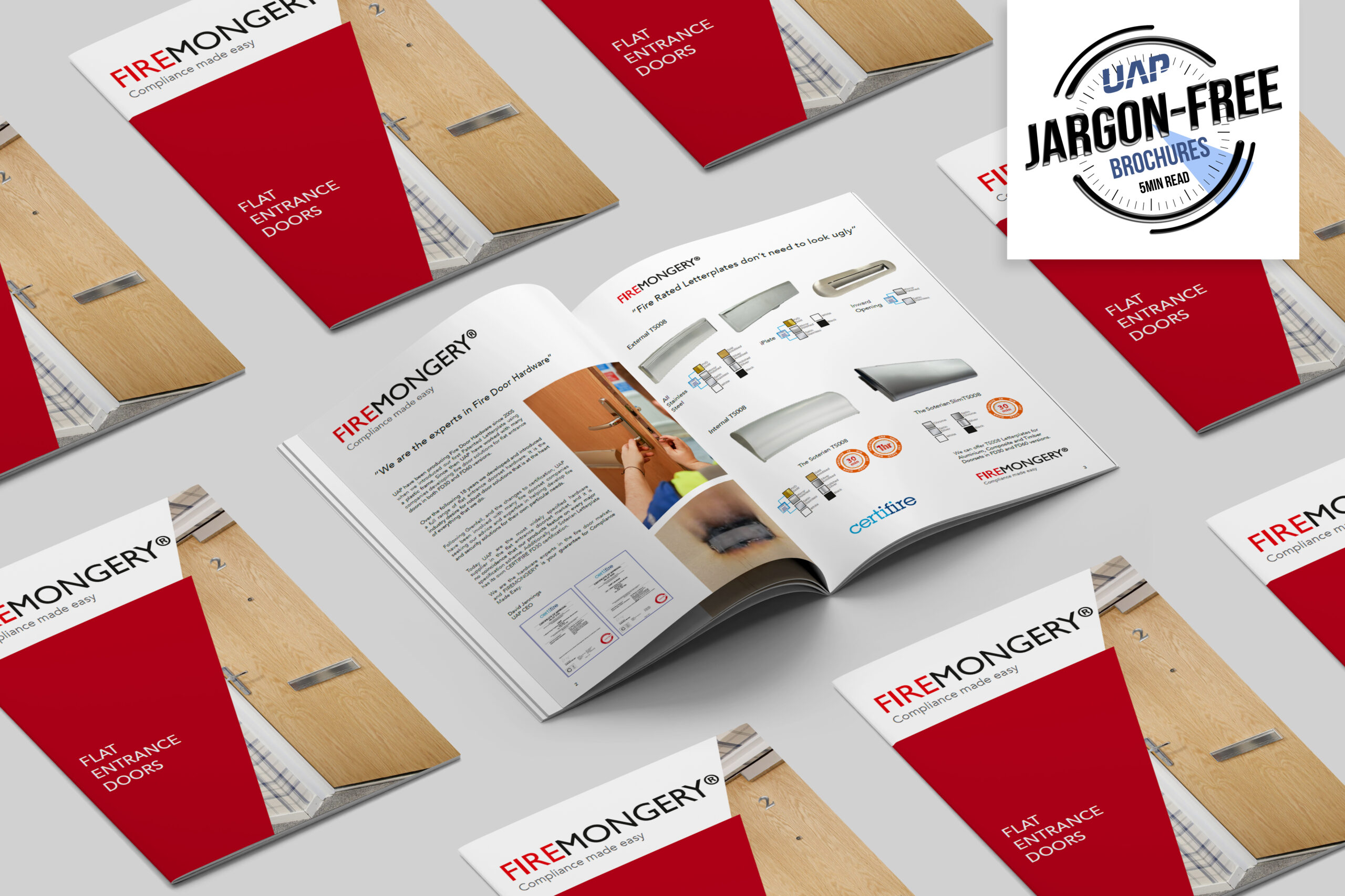 Life's better when things are easier, we think you'd agree? That's why we have developed a range of jargon-free solutions brochures. These are simple quick read brochures which highlight all the products we offer for a certain application. First up, is our FIREMONGERY® range for flat entrance doors brochure.
From fire-rated letterplates to 3-Star Euro cylinders, we have all the door hardware solutions you need for flat entrance doors under our FIREMONGERY® brand.
Experts in fire door hardware
At UAP Ltd, we have been producing fire door hardware since 2005 when we introduced our first patented letterplate using a plastic frame. Since then, we have worked with many companies developing fire door solutions for flat entrance doors in both FD30 and FD60 versions.
Over the following 18 years we developed and introduced a full range of flat entrance doorset hardware. It is the industry desire for robust solutions that is at the heart of everything we do.
Following Grenfell, and the changes to certification, we have been involved with many fire doorset companies seeking our advice and expertise in helping develop fire and security solutions for their own needs.
Today, UAP are the most widely specified hardware supplier in the flat entrance doorset market, and it is no coincidence that our products feature on every major specification scheme.
We are the hardware experts in the fire door market, and FIREMONGERY® is your guarantee for compliance made easy. Our FIREMONGERY® range was developed to give our customers a "one stop shop" approach to fire door hardware – we are proud to offer a complete tested solution to help you comply with safety and legislation as well as being competitive in the fire door market.
FIREMONGERY® hardware solutions for flat entrance door highlights:
Fullex Slam Shut Autolock
Based on the popular Fullex Crimebeater lock, the Slam Shut Autolock has an actuator unit positioned between the centre case and the top bolt. When combined with bespoke intumescent kits, the Slam Shut Autolock has achieved FD30 and FD60 on timber doorsets and FD30 on composite.
Fullex Kinetica+ K4 3-Star Horizontal Euro Cylinder
A horizontal version of our industry leading Kinetica+ K4 3-star Euro cylinder. As an additional security measure, the Fullex Kinetica+ K4 Horizontal cylinder has been designed to allow only single-orientation key insertion. This has enabled the in-house UAP design team to create a smaller keyway, making it even harder to attack. The horizontal keyway has six dimple pins and five laser track side pins, creating the potential for over 13 million differs, and making the lock even more difficult to pick.
Rigorously tested, Kinetica+ K4 Horizontal holds SS312:2019 Lock Cylinders Diamond standard approval, is BSI Kitemarked KM 561977, meets Police Preferred Specification and is accredited by Secured by Design. The cylinder can be used as a critical component with PAS 24 and will contribute towards Document Q compliance. Part of the UAP £4,000 cylinder guarantee scheme.
The Soterian Slim TS008 Certifire Letterplate
The future of TS008 is slim. Our ultimate TS008 letterplate – The Soterian – just got even slimmer (by 21mm). Slim but mighty, The Soterian Slim letterplate boasts features that not only set it apart from other TS008 letterplates on the market, but beyond TS008.
The Soterian Slim TS008 letterplate has achieved Certifire approval from Warringtonfire Testing & Certification Limited – certificate of approval no CF 6025. The letterplate is approved for use with FD30 timber doorsets.
Download your free copy of the new FIREMONGERY® range for flat entrance doors brochure. For more information contact our team of experts on 0161 796 7268 or email sales@uaplimited.com.