Gripping Hardware Solutions at FIT Show 2016
Published on 18 April, 2016
Blog
We showed we could handle the competition at the 2016 FIT Show, but if you missed out on seeing us at our stand, 264, we've captured all of the highlights in our very own FIT Show video:
There was quite a build up to this year's show and it did not disappoint! We wanted to show visitors the amount of consideration and work that goes into creating, developing, manufacturing and then testing each and every product we supply – so they know the quality is as fantastic as we claim.
Visitors were taken on a journey of the entire product creation process; with live 3D printers on the go throughout the 3 days, testing machines at work and ample examples of our finished products.
Our 3D printing technology attracted quite some attention and we were able to show the precision that goes into each product we develop, we even showcased our laser engraver machine which allows us to make products personal and unique for our customers.
The stand also displayed some of UAP's finest collections of door hardware; from their contemporary stainless steel collection to their practical hardware solutions for the social housing sector and even their new striking black iron door hardware.
Our team were kept busy with questions about an all manner of products including the recently developed hybrid door handles and our very own 3* Cylinder, the Kinetica – which were both of particular interest.
The Nanocoast range, which promises to remain resilient in harsher environments, was a particular hit among attendees. The stand not only featured a wall dedicated to this clever hardware solution, but products were available for people to actually see.
And for all those passing by stand 264, Marilyn Monroe and Austin Powers were on hand to make the day that extra bit special!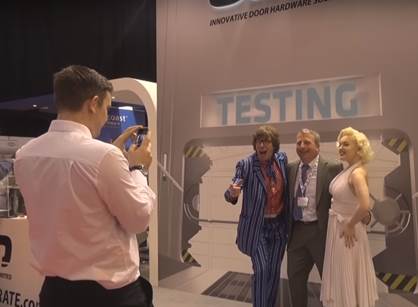 We've used the Hollywood lookalikes at previous shows; they are always greatly received and make everything a bit more fun!
A show like FIT is an excellent way to interest and communicate with new businesses and potential customers. Many new contacts were made at this year's show and the response was very promising, hopefully these new relationships will progress into some fantastic business for us in the future. And more importantly, hopefully those who visited our stand can see exactly what we are about – creating the highest quality products, developing them further to the best possible standard, and then testing them rigorously to prove their worth. We offer a whole package; we can test quality standards, develop products further and create a tailored experience for our customers – even down to the marketing support we provide.
If you missed us at this year's show, you can find all of our products at www.uapcorporate.com.
And don't miss the exclusive interview with MD, David Jennings: https://www.youtube.com/watch?v=f-cd32HQXuo