Get High Quality without the High Costs with the UAP Hybrid Handle
Published on 5 May, 2016
Blog
Want a high quality, durable and supremely designed door handle, but without the high costs? Then it might be time to go Hybrid!
Hybrid door handles have been designed to give the most comfortable grip possible, with their ergonomic tube shape and smooth finish; they also come with either a 219mm short backplate or a 243mm long backplate to suit the needs of your door.
What makes this product so special is the outside is made with an extremely robust stainless steel, which is proven to withstand the elements for longer than any other material. But the inside handle is made with zamak, a material which is much cheaper to manufacture.
Why have we done this? We want you to have the best quality product, but at the best price possible! 316 grade, stainless steel is the best material to ensure a rust free and resilient product, but as the inner handle doesn't need this same kind of resilience, so we have used a more suitable and cost effective product – zamak.
Nanocoast Door Hardware
Hybrid handles are a part of our Nanocoast collection of door hardware. These products are specially designed for areas with harsher environments, such as those within a 25 miles radius of the coast, that are in constant contact with corrosive sea salt air, and properties within a 5 mile radius of highly populated industrial areas. The outer part of each handle has been sea salt spray tested to ASTM B117 standards for 2,000 hours and comes with an industry first lifetime coating guarantee!
Hardware that Suits your Door 
Hybrid handles come in a selection of finishes including PVD Gold, Satin Stainless and Mirror Polished. Whatever the finish you can rest assured outer handle is still made with sturdy stainless and the inner handle is made with value for money zamak. And as the inside handle is made with zamak it also comes with 5 year colour fast guarantee.
Get Added Security!
What's more it's extremely easy and affordable to increase the security of this handle; we recommend installing a UAP 2* Cylinder Guard and a 1* Kitemarked Euro Cylinder with the handle to achieve maximum security. This is also the most affordable way to 3* security you can get!
---

2* Kitemarked and 'Secured by Design' approved, the UAP 2* Cylinder Guard uses a unique hardened steel anti-drill plate and high tensile pointed steel bolts to resist drilling attacks. It's anti-axial rotational lugs prevent twisting and is uses special grade high strength, high impact metal for added defence.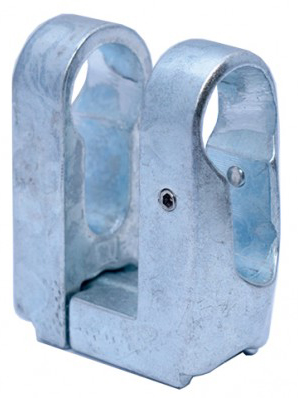 Created in accordance with the British Standards KM561977 the 1* Kitemarked Euro Cylinder is 'Secured by Design' approved and incorporates security features such as anti-pick pins on either side of the cylinder and 7 hardened steel anti-drill pins to further prevent drilling attacks. Its sacrificial cut lines are designed to break off when force is applied to the cylinder as oppose to the central fixing bolt which would leave access to the mechanism if snapped. Our patented timing pin, anti-bump solution is used for ultimate security.
To get your hand on our Hybrid Handles, click here!