Door Hardware To Keep Fires In Check
Our goal is to provide products that are not only highly secure but are designed to keep homes safe.  That's why we supply a range of door hardware solutions designed with fire durability and homeowner safety in mind!
All of our Fire Resistant products are developed using innovative materials designed to slow down the spread of fire through a door and have been stringently fire tested to meet the strict quality criteria.
With our fire rated door hardware, you'll have piece of mind that you're providing your customer's with the very best!
Fire Rated Door Hardware Features:
The intumescent lining used has the unique ability to expand to 50 times its volume in order to seal any gaps in the hardware and reduce the amount of smoke being able to seep through the door.
In a fire situation it is not only how quickly materials burn, but how structures stay intact. The non-heat absorbing washers hold the doors attaching metal fittings and act as a heat sink, preventing the plastic from touching the hot metal screws and melting for as long as possible.
TS008 tested and 1 hour fire rated… For security and style, look no further than The Soterian!
Our TS008 letterplate has been awarded the 60 minute Certifire certificate for 54mm timber doors and tested to Certifire standards for up to 30 minutes on a 44mm timber door profile.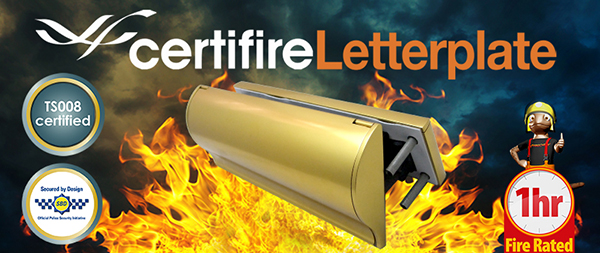 As well as door viewers and letterplates, our portfolio of fire rated products include door stays, cylinders, knockers, numerals and more.
For product information and updates make sure you follow us on Twitter or like us on Facebook!
If you have any questions about our fire rated door hardware range a member of our team will be happy to help – simply call us on 0161 796 7268.