Prevent Children from Unlocking and Opening the Front Door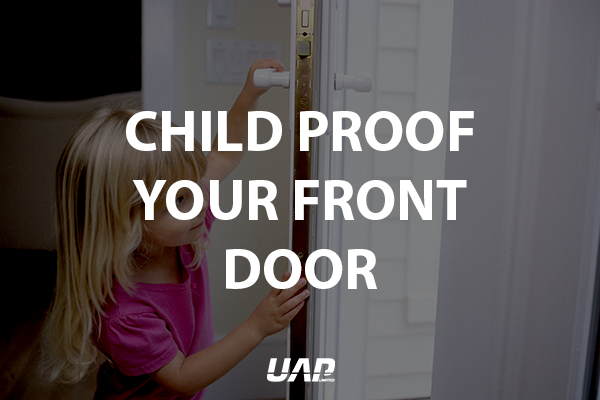 Everything you need to know about child-proofing your entrance door.
Preventing a child from unlocking and opening the front door is a concern for many parents.  Having to lock the door from the inside can be frustrating and is easily forgotten in a busy household but it's often a necessary measure.  Parents need a simple yet effective way of child-proofing their entrance door, and keeping kids safe in the home.
The Kinetica® Push to Turn Lock (P2T™) is one of the most advanced security locks available today.  Inspired by the very effective safety cap on medicine bottles, the Kinetica Childsafe™ feature stops children unlocking and opening the door, easily.
How does the Kinetica Push to Turn Lock work?
To lock the door simply lift the handle, gently push the knob in and rotate it.
To unlock the door, gently push the knob in and rotate it the other way.
It's as easy as that!
The specially shaped thumb turn has also been designed to suit the elderly, people with arthritis and limited hand movement so the Kinetica P2T Lock protects you and all the family.
In addition to the unique Childsafe™ feature, the Kinetica lock is secure against the most common forms of burglary.  Designed in the UK, it is approved by the Police initiative – Secured by Design.
The Kinetica P2T lock is based on the extremely successful Kinetica 3 Star Cylinder developed by UAP and Fullex.  A cylinder is a lock with a keyhole and tumbler mechanism contained in a cylinder.
Added Peace of Mind – Guarantee & My Keys
The Kinetica P2T lock is also covered by our £5,000 guarantee.  This means that if your home is broken into via the lock, and in the event that your insurance company won't pay out – we will consider a limited liability claim.  Click here for more details.
Each cylinder comes with a key fob which includes a serial number.  Register your cylinder on our website to activate the guarantee.  You will also have access to 'My Keys' which allows you to keep a record of the key number and an image, so if you've lost all your keys, you can log-in and take the number and image to a key cutter to get a new set cut!  Saving you the expense of replacing the cylinder.
Ask your door retailer, installer or landlord about the Kinetica Push to Turn Lock and help protect your family, all day, every day.