MAX6MUM SECURITY – Door and Window Security for Retail
MAX6MUM SECURITY is fast becoming one of the most recognisable names in retail when it comes to home security. Launched in 2012, UAP Ltd spotted a gap in the market to offer high quality, architecturally specified door and window security solutions at  prices which are extremely affordable for the end consumer.
All MAX6 products are endorsed by former Coronation Street star Sean Wilson who once played Martin Platt on the street. Sean is the face of the brand and is dedicated to helping MAX6MUM SECURITY secure the streets of the nation.
The brand has its very own mascot 'Max' as well as his 2 twin babies which are featured on the child safety products.
If you have a trade counter, DIY store or home retail shop, MAX6MUM SECURITY is the brand for you!
Sean Wilson and MAX6MUM SECURITY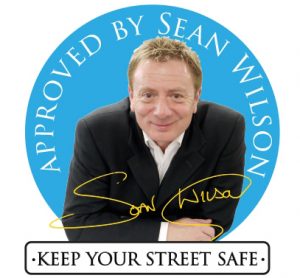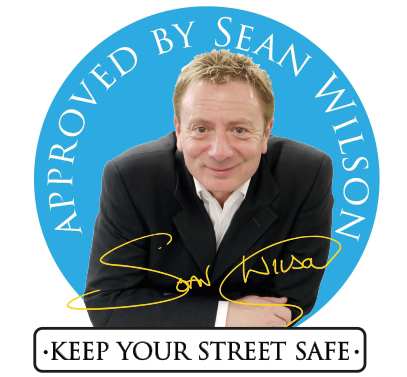 We have now made the brand as appealing as ever to home owners across the nation, as Sean Wilson has become the face of MAX6, endorsing all products.
Though he is best known for his role as Martin Platt in Coronation Street, since leaving the soap in 2005 Sean has appeared on the likes of Celebrity Master Chef, Dancing on Ice and is the star of the Food Networks, Great Northern Cookbook – which is based on his own book.
He played the role of Martin, ex-husband of Gail Platt and father of David Platt for 20 years – and on leaving the show pursued another of his passions – cooking.
Sean is a self-taught chef who has cooked in several Michelin starred restaurants; he is also an award winning cheese maker with his own business – The Saddleworth Cheese Company.
The actor, chef and proud Northerner has a keen eye for what makes a great quality and superior product which is why he was the perfect choice to front the brand.
Why should you buy MAX6MUM SECURITY products to sell at your store?
Lower Product RRPs – When we first investigated this market, we noticed that there were quite a few brands out there which are either selling products which have little or no security at quite high RRPs, or they are selling architecturally specified products at RRPs which are extremely overpriced. The MAX6MUM SECURITY range is very high quality, and products have been tested to a variety of credible standards including Secured by Design and BSi Kitemark accreditation. Even though the products are very high quality, the RRPs set are extremely competitive against all brands. From other high security brands to those which have little or no security.
High Profit Margins – The pricing structure for the whole range has been developed and designed so that every company will make a very healthy margin when selling the products on to the end consumer. Though the RRPs may be lower than similar products, the buying price for the products is extremely competitive and will give you plenty of leeway to achieve your desired profit margin.
High Impact Packaging – The first thing you will notice about the range is that every MAX6MUM SECURITY product comes in highly visible and eye catching blue and white blister packaging. The packaging is professional looking, it gives the buyer all the information they need and is compact in design to fit easily on shelves, not taking up too much space. Every product will feature a picture Sean himself which will be extremely appealing to the everyday homeowner.
The whole range will stand out on your shelves against any of the other retail security solutions currently available. Each product is clearly labelled so you know exactly what it is, as well as several features and benefits of the product.
Barcoding – Each product has its own unique barcode, which is printed onto the product packaging. This means you can sell the products if you are using a barcoding system in your store.
Full Fitting Instructions – Every product comes with step by step fitting instructions. Not only does this save the consumer the expense of having to hire a handyman or locksmith to come and install the products for them, it will also save you time and effort, as you won't need to explain this too them.
There is also a scanable barcode on the products which will take the consumer to an easy to follow online fitting video.
Huge Range to Choose From – The range includes high security door chains, self-adhesive front door letters and numerals, a self-adhesive door knocker, Secured by design door viewers, Kitemarked euro cylinders, a cylinder gauge (lock measurer) as well as lockable window restrictors and window locks (sash jammers). Products come in a variety of finishes.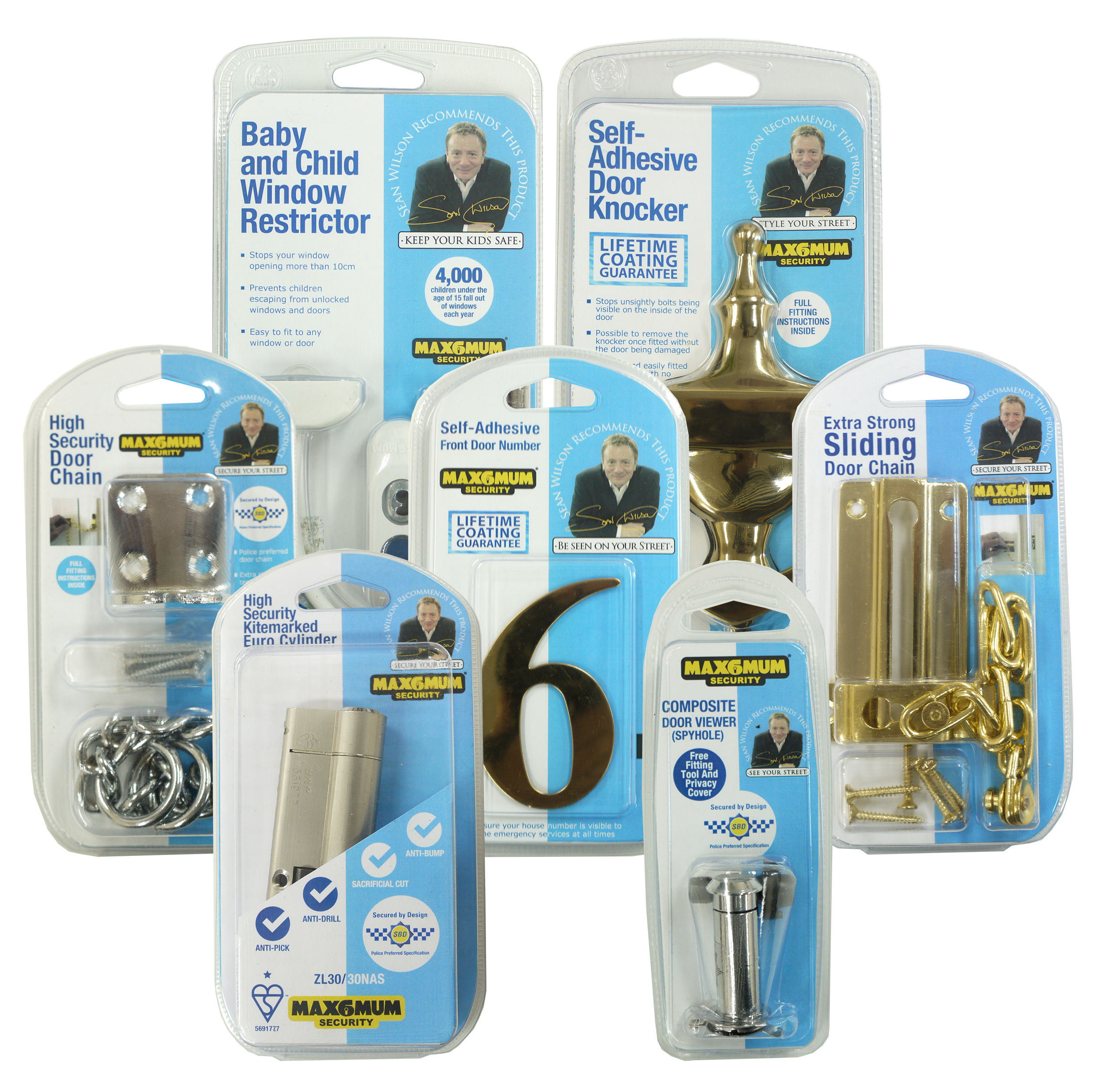 Nanocoast Products – The Perfect Coastal Solution – Perfect for properties by the coast! The trouble with many products on the market is that they are usually made from either brass or zinc. This is fine if the end consumer uses the products inland, however as soon as the products are fitted within 25 miles of a coastal area, the salt in the air very quickly corrodes them and makes them pit and rust. This can often lead to complaints and returns by the customer. Nanocoast products are made from 304 grade stainless steel, and due to their high nickel content will not pit and rust. We are so confident about this that these products come with a LIFETIME coating guarantee! Available in 3 finishes – PVD gold, mirror polished and satin stainless steel, the Nanocoast range makes product rusting a thing of the past!
MAX6MUM SECURITY Marketing Support
We will provide every company that takes the MAX6 range with a variety of marketing materials completely free of charge.
Promotional Material – We have a range of promotional material available to help you market MAX6MUM SECURITY products in your store; including, posters, leaflets, leaflet holders, promotional DVDs, window stickers, van stickers, open and close signs.
We also supply life-size Sean Wilson cut outs to help grab the attention of every home owner visiting your store.
Personalised Marketing – With our very own Graphic Designer and printing facilities, we are able to tailor much of our promotional material to you. We can add your company logo and contact information to posters, leaflets and brochures if you wish.
Point of Sale Stands – To help make products stand out on counters and in stores we have developed counter top stands, and also taller dump bin stands to display around your store!
MAX6MUM SECURITY Brand Awareness
Consumer Website – We have developed a website exclusively aimed at the consumer: www.max6mum-security.com. The website gives an overview of all the MAX6MUM SECURITY products, including product details, technical specifications, step by step fitting instructions and product videos.
One important aspect of the website is the stockists' page. Every company that takes on the range will have their details added onto the website as a registered stockist. Consumers are able to go onto this page and search for their local stockists. They can search by either the town or city they live in, or by their postcode. When they search, it brings up a list of their local suppliers within 25 miles of their selected area. Consumers can click on a company name, and it brings up the company address, phone number and website. This website is heavily promoted by ourselves, and is a great way to promote your company for free.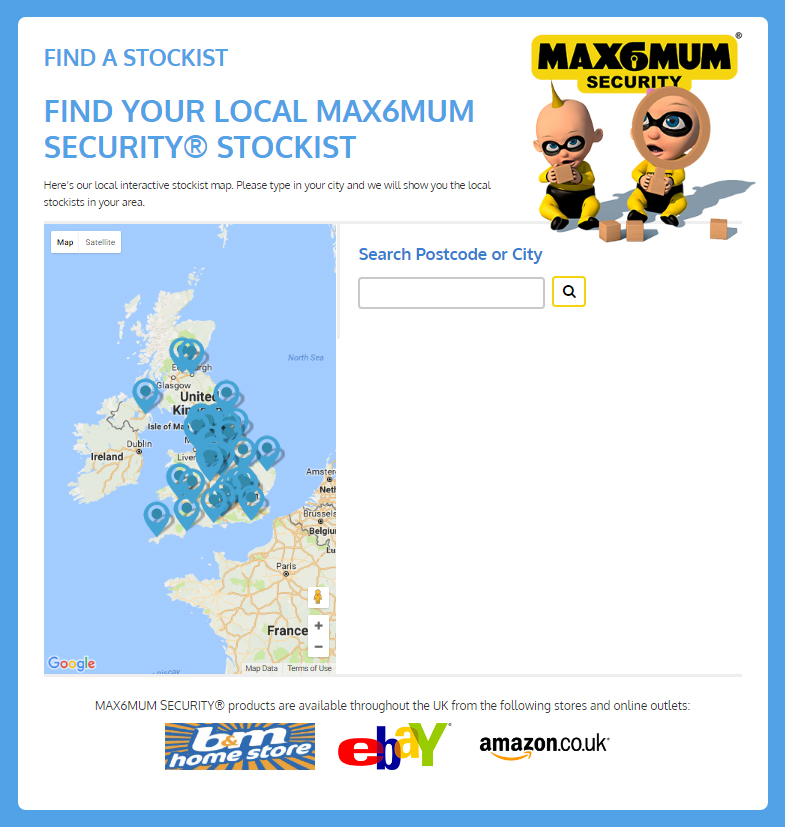 Apple iPhone App / iPad App – We have designed a MAX6MUM SECURITY app, which is currently available in the iTunes store.
National Radio Campaigns – In the past we have invested in 2 major, national radio campaigns on Smooth Radio. Smooth Radio reaches over 3.5 million listeners per week, with 73% of listeners being homeowners, and 58% of listeners having done home DIY in the last 12 months. The adverts use the voice of Max, and feature a number of products including Kitemarked euro cylinders and the MAX6 window restrictor. Each advert pointed consumers to the MAX6MUM SECURITY website, where they can find out more about each product, and also find their local stockists.
Promotional Videos – Throughout the years we have filmed and produced a number of videos for MAX6 products. Our videos feature a number of well-known faces including Coronation Streets Sean Wilson who is the face of the brand, Tom Hudson who played Paul Clayton in Coronation Street as well as Reece Noi from Emmerdale and Waterloo Road. We have our own in house animator, and have a number of 3D animated videos featuring Max and his twins.
Leeds United South Stand Sponsorship – Between 2012 and 2014 we were the south stand sponsor for Leeds United FC. The sponsorship allowed us to totally re-brand the stand with MAX6MUM SECURITY logos featuring heavily. We had adverts in each home day programme, on their official website, in their weekly eshot and TV adverts on the match day screen before each match and during half time.