Black is the New Black – Black Hardware from UAP
Black door hardware is the latest trend. It is timeless, fashionable and makes a statement. It contrasts well with pastel and bold colours, and makes the perfect finishing touch to a chic looking door.
At UAP your choice is endless as we have a vast range of black door hardware products and styles available. Here are some of our favourites from the collection.
1. UAP+ High Security 1 Star Kitemarked Double Euro Cylinder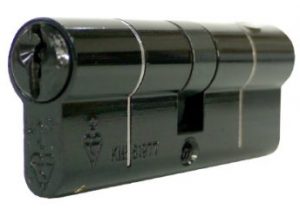 The UAP+ 1 Star Kitemarked Double Euro Cylinder secures a home against snapping, bumping, picking and drilling. It has proved popular with consumers and fabricators as is the best choice for an inexpensive home security installation.
The UAP+ 1 Star High Security Double Euro Cylinder is British Kitemarked one star accredited and Secured by Design Approved.
2. The Soterian TS008 Letterplate
Named after the Goddess of Safety, The Soterian TS008 letterplate is stylish, streamlined and secure in its design. A pivoting stay mechanism reduces the opening of the internal flap, guarding against the common attack method of 'key fishing' – a technique where keys are lifted from a home via the letterplate.
It conforms to PAS 24:2016 and is Approved Document Q. PAS 24: 2016 is now mandatory for all applications wishing to meet the Secured by Design standard.
The Soterian TS008 letterplate is also available in a Certifire fire rated version. It has been awarded the 60 minute fire-resistant Certifire certificate for 54mm timber doors and tested to Certifire standards for up to 30 minutes on a 44mm timber door profile.
3. High Security Front Door Handle
Available in a 219mm short or 243mm long backplate, the High Security Front Door Handle is aimed at the fabricator who wants to offer a high-quality door handle range but who doesn't want to get involved in fitting a cylinder guard.
The High Security Front Door Handle has many security features not found in other high security door handles including anti-drill resistance, attack resistance, water penetration resistance and cylinder/handle snapping protection.
The handle can be sprung and unsprung, as the spring inside can easily be removed.
For more information about our products, or to place an order contact a member of our sales team on 0161 796 7268. Alternatively you can fill in our online contact form here.