3 Star Cylinder Secures Big Business
Published on 22 June, 2016
Blog
PVC-U door fabricator, The A&B Glass Group has installed our 3 Star Cylinder Kinetica to all its doors as standard.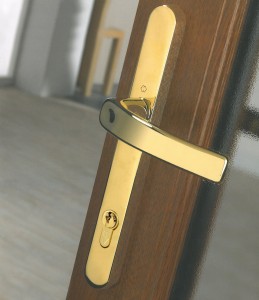 The Kinetica is securing more than just homes, but big business! Both John Fredericks and sister company A&B Glass, which make up the A&B Glass Group, have announced they will be using Kinetica in all doors supplied moving forward.
The company is the fourth biggest window and door fabricator in the UK and by working in partnership with us they will be able to give customers innovative and secure products that achieve BSI standards.
In recognition of increased security and safety demands, ABS wanted to supply doors that would include a 3 star cylinder in keeping with the latest BSI requirements. Already having a long and lasting relationship with ourselves, they were delighted when we presented our cylinder Kinetica.

"We have always known UAP to be a good supplier and enjoyed fantastic support and service over the years. The development of the Kinetica cylinder proves once again UAP's willingness to respond to both industry and customer demands. We challenged UAP to evidence the security of Kinetica – I have to hand it to them, it was the clever technology behind Kinetica that really impressed us."
– A&B Glass Group
---
The Kinetica is our contribution to the 3 star cylinder market. It utilises our patented timing pin and zero lift technology, which are very effective anti-bump features. The anti-snap solution designed by Fullex is ingenious and incorporates an anti-tilt mechanism, which they have a patent pending for.
We all know what a cylinder looks like once it has been snapped, but what most people don't realise is that it is now unbalanced. The weight is all on the internal side and as a result the cylinder will tilt – this exposes the lock bolt and creates a small gap for a burglar to gain access, possibly with a small flat screwdriver. The Fullex anti-tilt ring stops this happening – it is amazingly simple but surprisingly effective!
We have also created an axial-movement system which offers even more protection to the rotation cam – it stops it being turned when the cylinder is snapped. Kamas, which is what we have called the system, allows the drive bar to move axially backwards within the cam. It is the fact it can move backwards, and its bevelled shaped end that make it virtually impossible to grab with a tool. We've also found a way to stop the drive bar from shooting off the cylinder core, which can happen when the cylinder is snapped due to the pressure of the internal spring.
Our timing pin system protects against lock bumping but without the use of trap pins. Trap pins cause cylinder entrapment – which means the cylinder will lock up and won't open from the inside – creating a fire hazard. The Kinetica doesn't use trap pins, so doesn't have this problem. Once bumped the lock remains operational from the inside.
Not only does Kinetica not use trap pins but it has a much tighter keyway than other 3 star cylinders, which makes it much harder to insert tools and picks to manipulate the lock. It is flexible in terms of master suiting and has patents protecting its features – meaning you won't find this kind of mechanics elsewhere"
For more information on the Kinetica go to http://uapcorporate.com/ or call their sales team on 0161 796 7268.
For more information on The A&B Glass group go to http://www.abglass.co.uk/ or contact their sales team.